I suppose you want to know what all this nonsense is about. You've come to the right place.
My name is Geraldine. This is my travel blog. My husband Rand said I needed a photo to go along with this page, so here's one of me the year I dressed up as Fezzik from The Princess Bride for Halloween:
–
Rand was Inigo Montoya.
And here's what we look like normally: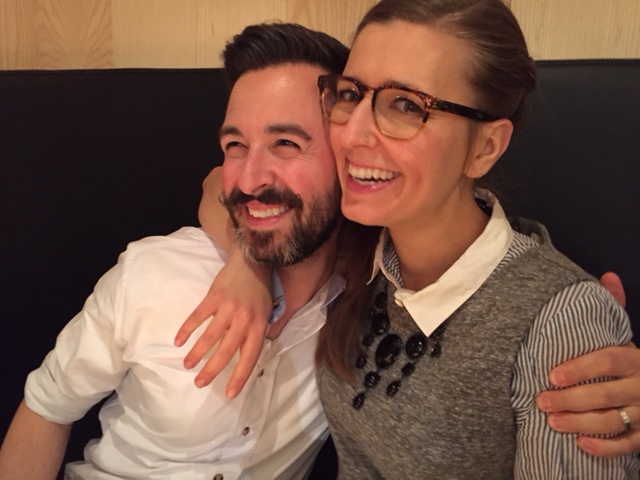 The story behind the blog:
My husband's job requires him to travel. A lot. For years, I sat behind a desk while he wandered around the world without me. It sucked for both of us, but probably more for me.
Then, one day, I was laid off.
It might have been one of the best things that ever happened to me.
Since then, I've been following him around the world.  This blog is mostly for him. So he can remember the places we've visited, the things we saw. So he can know a little bit about what I see when he's off giving presentations and having meetings.
Yes, it's a travel blog. But at its core, it's a love letter to my husband.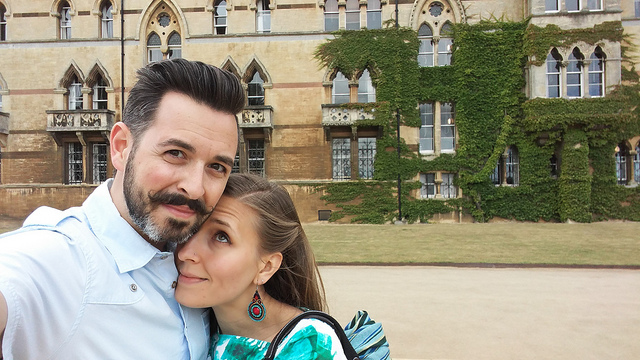 A big, long, cuss-filled love letter. The kind he'd appreciate. The only kind I'm able to write.
That's not to say you won't find it useful as well. If you want to hear the rants of a former copywriter as I travel around, eat, and have a bit of an existential crisis, read on. If not, then … well, I suppose I've just wasted a bit of your time. Sorry about that.
(What's that? You still have questions, and this About page did nothing to answer them? Then check out my FAQs.)
The Book:
Since I started this blog back in 2009, it has grown bigger than I could have ever imagined. I recently completed a manuscript for a book about our adventures. Hopefully Lost will be published by Public Affairs in 2017. (Sign up here to be notified about its release.)
Contact:
If you want to talk travel, Jeff Goldblum, or you wish to cast me in your new reality TV show about cupcakes, you can email me at deenie@gmail.com. (Note: my apologies, but unless we're close friends, I cannot give you tailored travel advice. I get too many of these requests and it's just become overwhelming. Also, I'm mostly clueless.)
I am represented by the amazing Zoe Sandler at ICM. If you have a really big, fancy inquiry, Zoe will be involved because I don't know what the hell I'm doing.
(DO NOT contact me with any of the following: press releases, freebie offers, guest post requests, requests to buy links/ad space, infographics, affiliate/partnership requests, or pitches of any kind. If you email me despite this warning not to, I will report you to Google and ridicule you on the blog. I will also sign you up for all sorts of unsavory mailing lists.)
You can also find me on the usual suspects of social media: Twitter, Facebook, and Google+.
Undeserved accolades:
TIME magazine's Top 25 Blogs of 2011. (Proof that god occasionally gets drunk.)
The 50 Best Travel Websites, The Independent
Top 25 Travel Blogs, 2015 – Viator Travel Awards
Top Travel Blogs – Rising Stars of 2014, The Huffington Post
Top Ten Blogs for Responsible Travel, Epicure and Culture
18 Best Blogs and Websites of 2013, The Cultureist
Top 100 Sites for Women – 2013, Forbes Magazine
Top 100 Sites for Women – 2012, Forbes Magazine
Top 10 Lifestyle Blogs for Women – 2011, Forbes Magazine
Top 12 Most Influential Travel Bloggers, US City Traveler
OTP's Favorite Travel Bloggers of 2013, Off Track Planet
12 Travel Bloggers You Should Read in 2012, Elliott.org
10 Most Unique Blogs of 2011, CrazyEgg.com
Most Valuable Blogger 2011 (Dining and Entertainment category), CBS Seattle
Editors' Picks, Bing Travel
Top 100 Travel Blogs, NomadicSamuel.com
Blog of the Week, Skyskanner.net
The Best New and Not-So-New Travel Blogs of 2011, AlmostFearless.com
Frugal Dad's Top Travel Blogs, FrugalDad.com
Press:
"How Getting Laid-Off Inspired One Writer to Travel the World," Mashable.com
The Everywhereist featured on Surfin With Steph, Fox News 12, Oregon (video clip)
"Laid-Off Copywriter Honored for Travel Blog Everywhereist," Geekwire.com
"The Everywhereist Talks Salt," The SCOOP (Kansas Underground Salt Museum Blog)
"Blog: My Way of Fighting," F5 Magazine (Translated from Russian)
"Help! I Have Motion Sickness," US News & World Report
"10 Airport Secrets That Only Insiders Know," Oprah.com
"The Everywhereist Has a Brain Tumor, Names it Steve, and Blogs About It," WebProNews
"Are You a Window Flier or an Aisle Seater?" CNN.com
"Seattle Tourists Unleash Fifty Shades of Grey Fantasies," USA Today Travel
Interviews:
Forms of Identification: Geraldine DeRuiter, BBC Travel
Q & A With Geraldine DeRuiter of Everywhereist.com, Conde Nast Traveler
Self-Doubt, Branding, and Books: A Chat With The Everywhereist, TravelWriteAway.com
Travel Blogger Tell-All – A Conversation With Geraldine DeRuiter, TravellingKing.com
A Conversation with Geraldine DeRuiter, Travelwriting2.com
Geraldine DeRuiter – The Everywhereist, TravelTrolley.co.uk
Meet the Woman Behind the Everywhereist, Trekity.com
Living the Dream: Geraldine DeRuiter, NicoleWilliams.com
Interview: The Everywhereist, ThePresentPerfect.com
Stories That Inspire: An Interview With The Everywhereist, I'mWayTooBusy.com
An Interview With The Everywhereist, MsMorphosis.com
Interview with Geraldine DeRuiter, a.k.a. @everywhereist: Lucky 13 Questions, GoSeeWrite.com
Interview: Geraldine DeRuiter from the Everywhereist, TravelBloggerAcademy.com
The Everywhereist Loves Snacks and Rand (Interview), GirlHabits.com
Podcasts:
Finding New Beginnings in Our Endings, Unmistakable Creative Podcast
Writers' Rough Drafts, CraftYourContent.com
Video:
Inspired by the Everywhereist, FYI.tv, 2014
Moztalk Blogger Edition – Geraldine DeRuiter, 2014
Sharing Personal News Online, Ignite Seattle, 2013
Oh, and one last thing …
My website was designed by the talented Derric Wise, and built by the eternally patient Andy Adams. They are both delightful to work with and I highly recommend them.
Make that two last things …
I am required, by FTC rules, to inform you all that Rand and I are teeny tiny investors in TechStars Seattle. Should I ever write about any of those companies, either here or on Twitter, please keep that in mind.