Books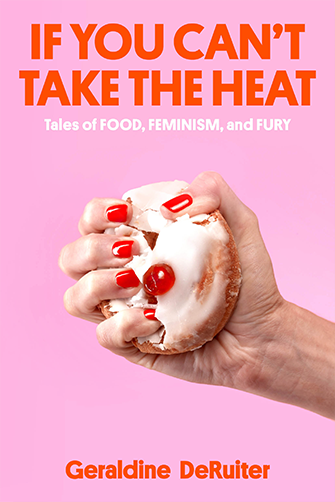 If You Can't Take the Heat
Tales of Food, Feminism, and Fury
by Geraldine DeRuiter, 2024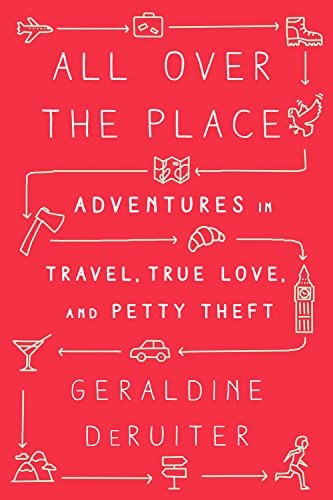 All Over the Place
Adventures in Travel, True Love, and Petty Theft
by Geraldine DeRuiter, 2017
If You Can't Take the Heat
Tales of Food, Feminism, and Fury
by Geraldine DeRuiter
When celebrity chef Mario Batali sent out an apology letter for the sexual harassment allegations made against him, he had the gall to include a recipe—for cinnamon rolls, of all things. Geraldine DeRuiter decided to make the recipe, and she happened to make food journalism history along with it. Her subsequent essay, with its scathing commentary about the pervasiveness of misogyny in the food world, would be read millions of times, lauded by industry luminaries from Martha Stewart to New York Times restaurant critic Pete Wells, and would land DeRuiter in the middle of a media firestorm. She found herself on the receiving end of dozens of threats, when all she wanted to do was make something to to eat (and, okay fine, maybe take down the patriarchy).
In If You Can't Take the Heat, DeRuiter shares stories about her shockingly true, painfully funny (and sometimes just painful) adventures through gastronomy. We'll learn how she finally got a grip on her debilitating anxiety by emergency meal-planning for the apocalypse ("You are probably deeply worried that in desperate times, I would eat your pets. And yes, I absolutely would."). Or how she learned to embrace her hanger ("Because women can be a lot of things, but we can't be angry. Or President, apparently."). And how she inadvertently caused another international incident with a negative restaurant review (she made the homepage of The New York Times website! And she got more death threats!).
Deliciously insightful and bitingly clever, If You Can't Take the Heat is a fresh look at food and feminism from one of the culinary world's sharpest voices.
All Over the Place
Adventures in Travel, True Love, and Petty Theft
by Geraldine DeRuiter
Most travel memoirs involve a button-nosed protagonist nursing a broken heart who, rather than tearfully watching The Princess Bride while eating an entire 5-gallon vat of ice cream directly out of the container (like a normal person), instead decides to travel the world, inevitably falling for some chiseled stranger with bulging pectoral muscles and a disdain for wearing clothing above the waist.
This is not that kind of book.
Geraldine met the love of her life long before this story began, on a bus in Seattle surrounded by drunk college kids. She gets lost constantly, wherever she goes. And her nose would never, ever be considered "button-like."
Hilarious, irreverent and heartfelt, All Over the Place chronicles the five-year period that kicked off when Geraldine got laid off from a job she loved and took off to travel the world. Those years taught her a great number of things, though the ability to read a map was not one of them. She has only a vague idea of where Russia is, but she understands her Russian father now better than ever before. She learned that at least half of what she thought was her mother's functional insanity was actually an equally incurable condition called "being Italian." She learned about unemployment and brain tumors and lost luggage and lost opportunities and just getting lost, in countless terminals and cabs and hotel lobbies across the globe. And she learned what it's like to travel the world with someone you already know and love. How that person can help you make sense of things, and can, by some sort of alchemy, make foreign cities and far-off places feel like home.
In All Over the Place, Geraldine imparts the insight she gained while being far from home-wry, surprising, but always sincere, advice about marriage, family, health, and happiness that come from getting lost and finding the unexpected.
Quotes from Esteemed Authors
"Geraldine DeRuiter's All Over the Place is a travel memoir of sorts, but I'd enjoy reading pretty much any topic she wanted to cover. Her voice is funny, witty and warm, and her stories sparkle. This book is a travel companion you'll be happy you brought along."
"DeRuiter's funny, honest portrayal of life's small and large adventures will convince any hesitant would-be traveler that you don't need bravery or even an above average sense of direction to venture out into the world—all you need is a plane ticket and a sense of humor (and maybe a plunger)."
"I laughed so hard during the book's 'disclaimer' that I woke up my baby, and then actively ignored him to continue reading. Geraldine is at turns laugh-out-loud hilarious and grab-me-some-tissues tender, and all I could think of after reading this was 'can we take a trip together please?"
"All Over the Place is a hilarious, authentic travel guide through the most mysterious and wonderful territory of all: the human heart."