The 13 best Seattle spots for kids (probably)
Though the extensive cloud-cover, rain, and 50-degree weather suggests otherwise, it's nearly summertime here in Seattle. I'm quite excited, because it means that those of us who live here can emerge out of our Snuggie cocoons and venture outside, squinting, somewhat horrified, at the sun.
It also means that quite a few folks will be heading up to Seattle from various locales in search of fun and interesting things to do. Any many of them insist on bringing their children, because apparently you can't leave a four-year old in a hotel room alone, and leaving them alone at home is an even bigger no-no (I'm speculating here).
So, after nagging my friends who are parents (yet again) and searching the recesses of my brain for any suppressed childhood memories about Seattle tourist attractions (which only resulted in me uncovering a memory about how I was afraid of Shilshole beach because I thought mutant starfish lived there), I've come up with my Top Ten Seattle Attractions for Kids. Remember: I have no children. And I'm kind of afraid of them, anyway. So if this post is totally off, remember that you're the one taking advice from a childless blogger who swears like a sailor.
———–
–
The Pacific Science Center: A few years ago, I met a colleague of my husband's at an event at the Science Center. He told us how, during a family vacation to Seattle when he was a kid, they had visited Pac Science Center and he had loved it. The next day, his parents left him (age 6) and his brother (age 10) in the hotel alone for a few hours. While his brother was otherwise distracted, he snuck out and went back to the Science Center. Alone. It was that cool. And having the police pick him up and return him to his terrified, grief-stricken parents was just icing on the cake.
Perfect for: animal lovers, science dorks, and inquisitive little minds. There's even exhibits geared towards "tots", which I assume are some sort of child/potato hybrid. My favorite exhibit was, and always will be, the Shadow Wall.
———–
The Seattle Aquarium: Compared to the Vancouver or Monterey Aquariums, Seattle's pales a bit, but it's still a great place to visit (besides, what are the odds your children have been to those other aquariums? It's not like the Science Center – they couldn't have gone without you). The underwater dome, octopus tank, and otter exhibits are my favorite ones, and since I'm basically a big 6-year old, your kids will probably like them, too. And if you get me drunk, I might tell you about how my senior prom was held here.
Perfect for: rainy days (most of the exhibits are inside); children who find zoos intimidating, and like a layer of water between themselves and the animals
———–
–
Seattle Center: Since god was a boy, I have thought this place magical. The Space Needle, the International Fountain, and the festivals at the Center House were an endless source of amusement for the mini Everywhereist (henceforth known as the Mini-whereist). Admission is essentially free, as all the common areas are considered public space (except during Bumbershoot). Just save a little spending money for a caramel apple and some cotton candy, and let your kid run off their sugar high trying to climb the Space Needle (since tickets to the top of the needle are kind of pricey, so you can lie and tell them it's closed – kids believe a lot of crap, right?)
Perfect for: those rare sunny days; little bohemian babies in tie-dye onesies (they'll fit right in). See if you can go during a festival like Folklife or the Bite of Seattle. It will make you want to move here, rain and exorbitant housing prices be damned.
———–
The Children's Museum: a bit of a no-brainer, the Children's Museum is located in the Seattle Center house, and is nothing short of fantastic. They've lots of interactive displays (after all, it's geared towards children), and it's so much fun that Rand has had to physically drag me away from this place, lest I look like the creepy 30-something lady who hovers around children but has none of her own.
Perfect for: Pint-sized Picassos. And since it's indoors and climate-controlled, it's perfect for either rainy days, or that once-every-two-years summer scorcher that we get.
———–
The Sculpture Park: When the sculpture park was first built, on a huge parking lot along the Seattle waterfront, I was infuriated. Mostly because that lot offered all-day parking for $5, and I used to work just down the street. When you try parking on the museum grounds now, the security guards get really pissy. But the park does offer some fantastic views of Seattle, and one uber-hip Seattle mom I know said she takes her kids there for picnics. Plus, it's FREE. You know how I love FREE.
Perfect for: strollers (yes, there's a lot of paved walkways), sunny days, and those kids who sputter and run around like the Tasmanian devil. If you can get them to pee on the Calder statue, that's a win (I hate Alexander Calder).
———–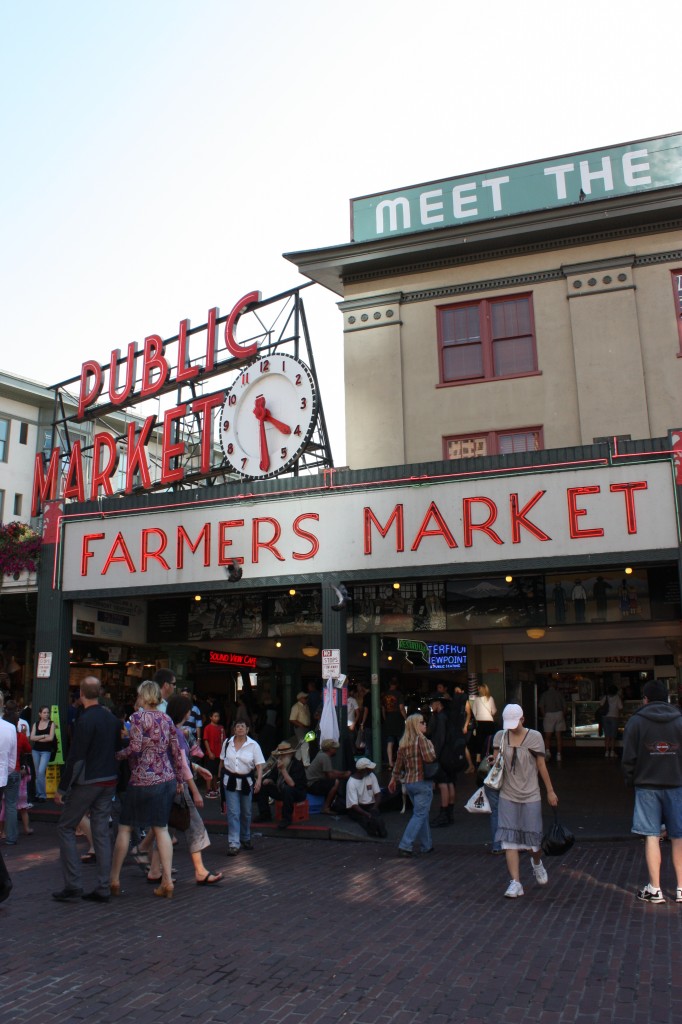 –
Pike Place Market: The market was a glorious place when I was a kid. I loved everything about it: the magic shop, the giant shoe museum, airborne fish, and copious amounts of free samples. While it's changed a bit in the last 30 years or so, everything I love about it is still there. Including mini-donuts.
Perfect for: Kids who like to eat, and aren't creeped out by street musicians or the smell of fish.
———–
The Seattle Waterfront: If you're lucky enough to be in Seattle during Seafair, the Waterfront will be full of shows, exhibits, and perhaps even a few (friendly) pirates. Year-round, though, it's worth a stop. Just west of the Pike Place market, you'll find loads of interesting shops and eateries (including Ivar's clam bar and The Old Curiosity Shop), and you can hop aboard a number of Argosy cruises. If those are too expensive for your taste, just try a ferry ride to Bainbridge Island. It's free for walk-on passengers only a few dollars for walk-on passengers, and once you arrive at the island, you can walk around, browse some shops, visit a playground, and grab an ice cream before heading home.
Perfect for: Sunny summer days; folks who feel like doing some walking.
———–
The Museum of Flight: I remember my brother adored this place as a kid. He basically peed his pants with excitement (at least, that was his excuse). It has a large number programs and exhibits geared towards kids, and there's loads of planes hanging from the ceilings (it's a pretty cool site). Plus, it's the largest private air and space museum in the world. Children, like me, probably don't know exactly what that means, but understand enough to be impressed.
Perfect for: Rainy days, of which we have many. Also, provides a great opportunity for you to do your Jimmy-Stewart-as-Charles-Lindbergh impression.
———–
–
The Ballard Locks: I'm not going to lie – the locks confuse me. They really do. They're basically a link between the freshwater lakes (Washington and Union) and the saltwater Puget Sound. The two bodies of water are different heights (don't ask me how – I thought sea level was sea level) and so boats float into an enclosed canal where the water level is either raised or lowered, enabling the boat to travel either safely out to sea, or back to the lakes. Sounds weird, right? But kids friggin LOVE this place. Oh, and if you go at the right time of year, you can see the salmon ladder, which, no joke, is awesome.
Perfect for: Sunny days (the botanical gardens around the locks are gorgeous). It's also entirely free (except for parking).
———–
Seattle Duck Tours: I don't know what evil mind came up with those damn Duck Tours, but they are a genius. Even in the cold, freezing rain, the folks on those boat-bus hybrids look absolutely thrilled to be exactly where they are. Plus, they're a great way to see a lot of the city, since children don't seem to last very long standing on those teeny little legs of theirs. A friend told me her 6-year-old son, despite living in Seattle his entire life, loved every minute of it.
Perfect for: Folks who don't mind being scowled at by locals, and have the wherewithal to endure the constant quacking emitting by those stupid duck whistles they hand out. Also, if you or your kids have trouble walking or getting around, this could be a great option (but I'd check to see how bumpy the ride is, first).
P.S. – their site quacks. Evil … and genius.
———–
Green Lake: Just north of downtown (and the University district) is Green Lake, a manmade lake frequented by joggers, dog-walkers, and lots and lots of parents. There's an extensive playground and wading pool (both of which I loved back when I was the Mini-whereist) as well as paddle-boat and canoe rentals. But my favorite childhood memories of the lake? The snow cones. Hands down.
Perfect for: Dog lovers; sunny days; kids who love playing in the water (opportunities for that are scarce in the Pacific Northwest, unless you count playing in the rain).
———–
Golden Gardens: One of my absolute favorite spots as a kid, Golden Gardens is a beachside park along Shilshole marina (note: in Seattle, it's too cold to actually swim in the water, so we just hang out and look at it). It's a great spot for bird-watching and there's lots of tide pools you can explore, too. There's a still-operating railroad track nearby (yay! Trains!), but it's fortunately free of hobos.
Perfect for: Tiny explorers. Don't forget to bring a bucket.
———–
And to make it an even Baker's Dozen, and because I feel super guilty for missing their performance last week, let me give a shout-out to …
Youth Theater Northwest: They're located in Mercer Island, they're constantly performing shows, and the kids are genuinely talented and entertaining. Plus, long-time readers know what a huge fan I am of child-labor disguised as education. In all seriousness, though, it's an amazing program, and their Artistic Director is the cat's meow. Guilt abated.
Perfect for: Drama queens and kings.
———–
Phew. Okay, that's it folks: a childless woman's best guess as to what kids would like to do in her hometown. A special thanks to all the parents, aunts, and big brothers/sisters who answered my call and helped make this post possible. If you have any more suggestions or would like to point out some ginormous errors on my part, please feel free to do so in the comments.