WTF Wednesday: Union Square "Holiday" decorations
Dear San Francisco,
I love you. I really do. Despite the fact that, at different times over the course of my visits to you, your residents have robbed me blind, pressed me for money, nearly spat on me, and expressed their dementia through screaming in my general direction, I still find you endearing. Your parks are fantastic, your weather is deliciously manic, and your mayor looks like Remington Steele.
And of course, you are one of the most inclusive, tolerant, and wonderfully liberal cities on my coast. That may be why I found this so damn disturbing: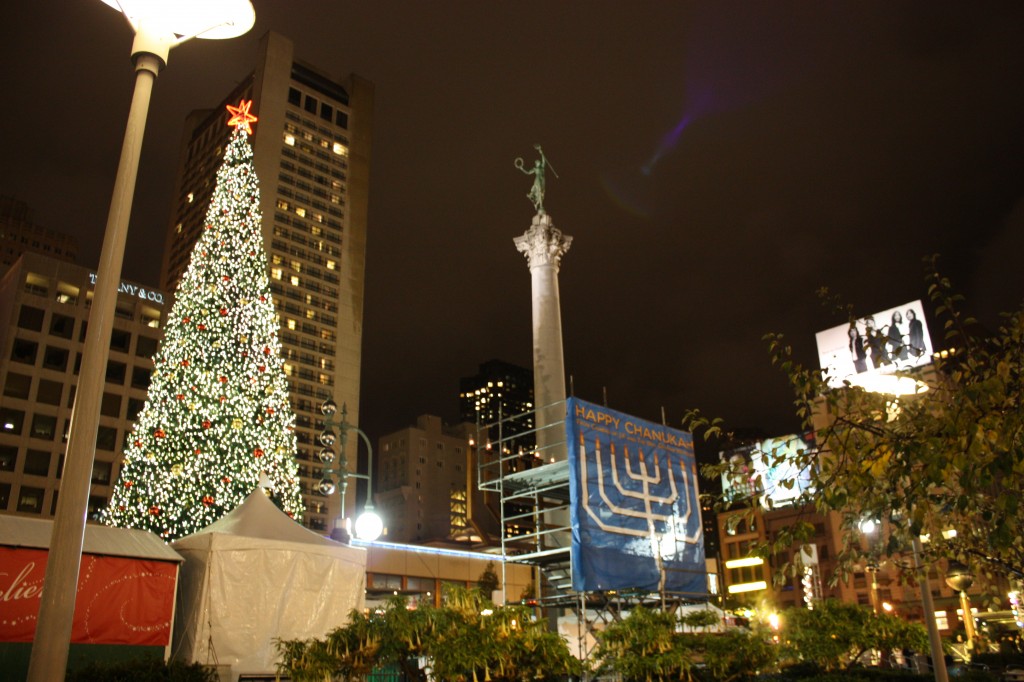 Props to you for trying to represent the all-consuming spectacularity of Christmas as well as Hanukkah, but sweet heavenly father, WHAT THE EFF IS GOING ON HERE? Rand and I stared for a few long minutes, and the best we can come up with is this:
Someone thought it was a good idea to put up a huge Christmas tree. Fair enough. It's Christmastime.
As what I can only assume was an afterthought, they decided to also put up a kind of dismal-looking menorah.
Rather inexplicably, they decided to cover the menorah with a bunch of scaffolding and a cheap-looking tarp that has another picture of a menorah on it.
You … you are kidding me, right? You realize, dear city of San Francisco, that ignoring the holiday of Hanukkah altogether would actually have been better than this, right? It reminds me of when we'd have a "Holiday Concert" at my elementary school, and after singing a few dozen Christmas songs, we'd toss in The Hanukkah song so that Weinstein's parents wouldn't get upset. At the time I figured we were being "inclusive", but it now reads a bit more "condescending" and "in violation of the separation of church and state."
Sigh. I know you meant well, San Francisco. You usually do. But next year, please consider forgoing a last-minute effort to include your city's 200,000 Jews. Or, at the very least, lose the damn tarp.
Seriously. WTF.
Sincerely,
The Everywhereist.