Portobello Road Market, London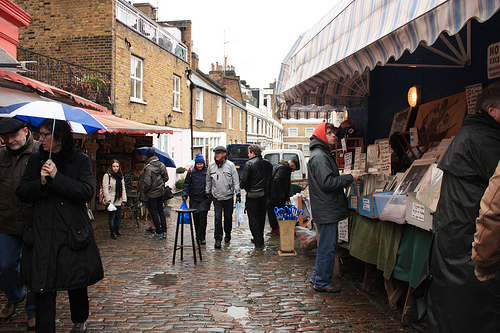 –
The other day I did an excellent job of keeping my mouth shut while a distant in-law explained to me how television was bad for children. The comment had been prompted by my admission that I'd spent the morning watching Yo Gabba Gabba with my nine-month-old nephew.
Now, before all of you start raising pitchforks and torches (where did you even get those, by the way?) and storm my office, let me be clear: I know NOTHING about babies. He was teething and freaking out and the show looked almost educational and the host was a vivacious black man in a skintight orange suit (which was totally captivating for both of us), so I think my actions were pretty damn defensible.
Plus, television did an excellent job raising me, so who I am to deprive a new generation of that?
Still, I smiled as I was scolded for delaying my nephew's cognitive development and leading him on a path to sloth and criminal activity, or whatever. I AM A PILLAR OF RESTRAINT. There might even be some truth to it, as I'm sure that plopping a kid in front of a television for hours on end isn't a great idea.
But let's be honest: children who don't watch TV are just weird.
Later, they will grow up to be adults who suck at bar trivia and are alienated from their friends because they don't understand cultural touchstones and just stare blankly when you quote Cheers (don't tell me that stuff isn't important, because otherwise I'll have wasted my life).
I should know: I married someone who grew up without regular access to TV.
There are days when we have discussions during which I'll prattle on about something and he will just stare blankly at me.
Me: Sorry. Did I just go all Cliff Clavin on you?
Him: I don't know what that is.
Me: Cliff Clavin?
Him: Yeah. Who is that?
Me: Cliff … from Cheers?
Him: I've never seen that show.
Me: I … zuh … WHAT?
Him: Oooh, wait. Is that the show that Frasier came from?
Me: I … leave. Just leave … now.
Him: What? … because I've never seen Cheers?
Me: And also because I'm pretty sure you're an alien posing as a human to learn our weaknesses and I'm not sure I can be married to you.
This is how our lives go. Rand gets roughly 1/10th of the jokes I make, which sucks, because I guarantee you I am delivering some quality humor and it is WASTED ON HIM. I sincerely think he might not be from this earth.  Although, really, any alien impostor worth his salt would have enough good sense to brush up on Cheers.
The other day, he had the pleasure of being on the other side of this discussion. He was thrilled that we were going to be in London on a Saturday (a rare occurrence), which is when Portobello Road Market is open.
Rand: Baby, we can go to Portobello Road.
Me: Wonderful. I will buy all the mushrooms!
Rand: No, like from the movie.
Me: What?
Rand: You know … (begins singing) Portobello Road / Portobello Road / Street where the riches of ages are stowed …
Me: Dude, is my tumor acting up or something? Because I have no idea what you are talking about.
Rand: From Bednobs and Broomsticks? When they visit Portobello Road?
Me: Nope. Never seen it.
Rand: Zerk … gah … No. How? How have you never seen Bednobs and Broomsticks?
Me: Said the man who's never seen The Wonder Years.*
(*Later, Rand noted: "I did see part of it once. And I was like, 'Why is he talking over the show?'")
So Rand forced me to watch this video on YouTube, which was confusing, but did teach me that Angela Lansbury has great gams.
Portobello Road is, as the song suggests, home to the world's largest antique market. I can only assume that it is always mobbed, because even on the chilly, rainy day that we were there it was packed.
–
–
There were all sorts of delightful things that I didn't know I needed there. Like a dollhouse. I can't tell you how many times I've looked at my child-free, 30-something life, and thought: damn it, I need a dollhouse. I am fairly certain having one would not at all make me seem creepy and weird.
–
And I also need some tiny little musical instruments, too. So the dolls living in the dollhouse have something to do.
–
While we walked, Rand would occasionally sing bits from the movie's song. The lines fit perfectly, and there was something comforting about the fact that this strange and bustling market hadn't really changed all the much in the last century or so. You can still find the same mix of antiques and cheap reproductions. There are people looking for deals and sellers looking to get rid of their wares, very often under a grey London sky.
–
Anything and everything a chap can unload
Is sold off the barrow in Portobello road.
–
Tokens and treasures, yesterday's pleasures
Cheap imitations of heirlooms of old
–
Dented and tarnished, scarred and unvarnished
In old Portobello they're bought and they're sold
–
You'll find what you want in the Portobello Road.
–
I walked with him in the rain, listening to him sing. He draped an arm around me as we browsed the strange collections, and even saw a thing or two that reminded us both of our childhoods – a rare thing indeed.
–
I realize that TV made me who I am, and a lack of it made Rand who he is. Either way, I think it's safe to say that my dear nephew will probably be okay. He just needs to find the right person to compliment his life.
–
Even if it's someone who doesn't understand what he's talking about half the time.
—————-
The Essentials on Portobello Road:
Verdict: Yes. If you've checked out the touristy bits of London and want to see something a little different, head here. The surrounding Notting Hill neighborhood is pretty damn charming, too.


–

How to Get There: We took a cab, but there are tube stations that can drop you off fairly close to here, too.


–

Ideal for: Antique-hunters, window shoppers, people-watchers, and anyone who loves a long walk (usually in the rain).


–

Insider tips: The market gets very crowded, so try to go early (before 10am) or late (after 1pm). Things start to close down in the mid-afternoon. Many of the stalls and sellers are open rain or shine, so you can even go when it's grey out, but bring an umbrella and wear comfy shoes (the entire market spans about 2 miles).


–

Nearby food: There are a few restaurants along the street, but they get positively mobbed during the market. You'd be better off grabbing a bite and eating while walking, but be warned that I was screamed at by some crazed shop owner for having the gall to stop in front of her shop and take a few bites of cupcake.


–

Good for kids: I'm going to lean towards no. Little ones will probably get very tired and bored. Many of the toys they'd see are antiques, so they can't touch or play with any of them. Wee ones in strollers should fare just fine, but note that the market gets very crowded and noisy, and maneuvering through all the people could be very difficult.