The Brunch I Can't Remember, Paris
I will probably forget the name of the brunch place we went to in Marais. I've forgotten it three times already, each and every time you told it to me, until you finally emailed me with the message "Don't lose me."
–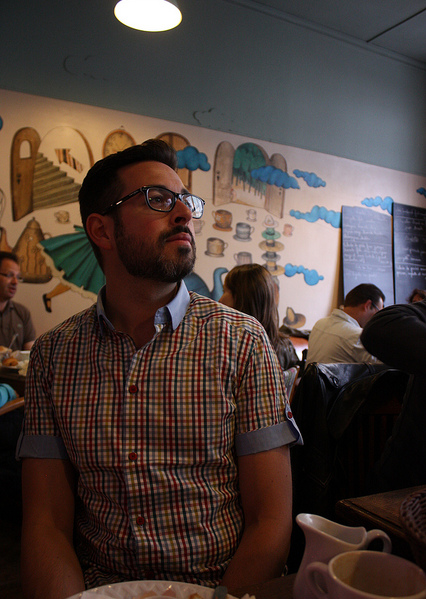 You meant the restaurant name, of course, but somehow I read it as a request from you, personally. "Don't lose me," you said. As though that were even possible. You're on my mind even when I'm unconscious.
As the months pass, and turn into years, I likely won't remember that meal at all. If some hazy recollection of it lingers in my mind, I doubt I'll be able to say even what city we were in. The sky outside was gray and cloudy and could have hung over Seattle, or San Francisco, or London.
We may or may not have walked down an alley to find the restaurant. I can't quite recall.
–
It's nothing personal, my love. It's just that my steal trap of a brain is getting rusty at the hinges.
I won't be able to say whether or not the tables were made of wood, having only a vague notion that they were a little too small, and feeling somewhat bad for the German trio who was seated right next to us, forced to listen to our ridiculous early-morning jokes as we tried to hit on one another using my French phrasebook.
–
"I would like you," I said in broken French, "on this table without clothes."
Or maybe I made that part up to fill in the gaps. But it certainly sounds like us, doesn't it?
I do recall that the menu was prix fixe, that the place was buzzing with people and the sound of dishes clinking together, that there was some mural on the wall behind your head.
–
I can tell you with some measure of confidence that the first course was yogurt with fruit, and that I handed most of mine over to you because yogurt gives me headaches, or so I'm inclined to believe.
–
A claim which I'm sure you doubt, but you never press this issue. This time was no different: you just ate the yogurt, happily, obligingly.
–
Then the pastries arrived, putting everything right, as pastries do. 
–
This is a point upon which we consistently agree: that baked goods can make the world a better place. This is why, I'm convinced, our marriage works. What if you didn't like pastries? Would we even be together? Or would some other poor soul be the object of my phrasebook propositions?
–
And then there were eggs, I guess? My photos have eggs in them, so eggs we must have had.
–
You probably mentioned (because you always mention it, whenever we have soft-boiled eggs) how you didn't realize that most of Europe referred to the little pieces of toast you dip inside as "soldiers", and how for years you thought it was just a weird Geraldine-ism. And I didn't tell you that I'm pretty sure I got the phrase from Nigella Lawson. I just let you think I was cosmopolitan and worldly.
Hell, I pee with the door open most days, so I've got to do something to make myself seem slightly more mysterious and cultured, right? So "soldiers" it is.
At least, I think that's the conversation we had. As this narrative we've been writing for a dozen years spans more volumes, I've started to forget the little things. The names of restaurants. The dishes we ordered.
I used to remember everything, didn't I? Not so much anymore. Or maybe it's just that I've prioritized things differently.
Because I can still rattle off every important date in the history of us. I can tell you when each of the silver hairs on your head and beard changed color from their original dark brown. I can chart the constellation of your freckles from memory, scarcely missing one. I remember every shirt you ever wore.
–
Maybe it's not that my memory is failing. Maybe it's that, in light of you, everything else is pretty damn forgettable.