Traveling from Phnom Penh to Siem Reap by Bus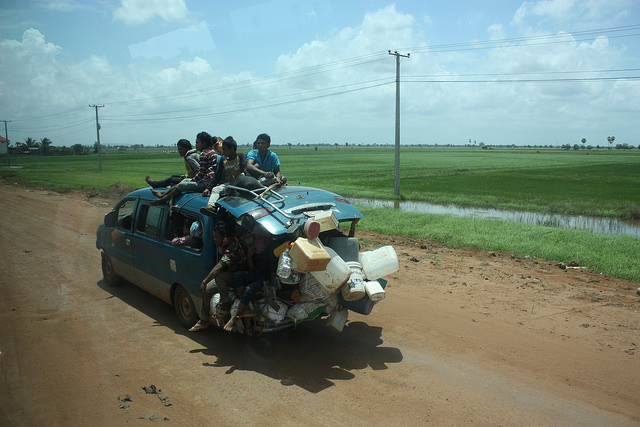 We were originally going to fly from Phnom Penh to Siem Reap. We had booked our flight, but Nicci told me she wanted to see more of the countryside, and suggested that we take the bus instead. Tickets were $15, and they picked us up from directly from our hotel and took us to the bus depot.
The vehicles, part of the Giant Ibis transport fleet, were newer ("We just got them from Korea," someone explained), supposedly air- conditioned and outfitted with WiFi, though I can't properly endorse either claim. Our seats were at the very back of the bus, where the cold air did not reach. From my vantage point I could see a sea of heads in front of me, all of them bent in frustration over their handheld devices, in hopes of being able to check their email or send a single tweet.
Now that I am back on my home continent, where the Internet is lightning quick and the air conditioning in my hotel room is glacial, that bus ride strikes me as unpleasant, unnecessarily long. At the time, though, it felt rather opulent, the broken amenities not withstanding. It was spacious and clean; the seats were comfortable, and they reclined generously. There were power outlets for every seat.
I soon gave up on my email (I am prone to motion sickness, anyway), and instead sat in the stuffy air, squinting at the tiny TV screen at the front of the bus that played X-Men: First Class and, later, The Lone Ranger with no discernible volume. It was a peculiar moment, the sort that you remember fondly because of how bizarre and singular it was. A hot bus rumbling on a broken and dusty road across Cambodia, while a diamond crusted January Jones watched over us.
It took us seven hours to travel the 200 miles between Phnom Penh to Siem Reap, stopping briefly at a cafe (run by the bus company) for lunch. It was by far the worst meal I would have in Asia.

And while I would not want to repeat this component of our trip (take the plane, particularly if you are pressed for time), I am nevertheless grateful for the scenes of the country that it afforded. Nicci was right about that – we did get to see Cambodia as it passed by our window, hour after hour, from sun to haze to torrential rain.
Had we just hopped on a flight between the two major cities, we'd have missed it.
The road occasionally took us by the river, and past flooded rice paddies.
We cut through dusty villages, drove through neighborhoods where sprawling homes stood precarious balanced on stilts, often right across from crumbling shacks.
We saw the country: poor and broken, beautiful and heartbreaking. There were countless times that I wanted to cry during the week we were there, and but as soon as we left, I wanted to go back.
I stared out the window, until the view was obscured by the pouring rain.
And then I closed my eyes and dozed. And when I opened them again, after lunch, and two movies, and so many miles crossed, I looked at my watch.
We still had two hours to go.
—————-
Giant Ibis bus ticket information can be found here. The Move to Cambodia website also has a great breakdown of the different travel options between Phnom Penh and Siem Reap.