I Am Speaking at Women's Travel Fest 2016
Sometimes organizers of events get drunk* and invite me to speak at things! As such am incredibly excited to announce that I will be a panelist at the Women's Travel Fest this weekend in New York City, a conference and an honor for which I am largely unqualified.
After taking a gander at the speaker page, I feel like I am almost capable of blending in with the many esteemed women who are speaking at this event (though I can virtually guarantee that none of them needed to crop out the word "cock" – as in "cocktail"- from the background of their profile pictures, perilously close to their heads).
But then we get to the bios, and that's where my facade crumbles: as is often the case, I am undone more by my words than by my appearance. Where the others have chosen to describe their achievements (as one tends to in bios for professional events, and holy crap are these women accomplished), I used the occasion to make a plea for Hamilton tickets.
I almost wish I was joking.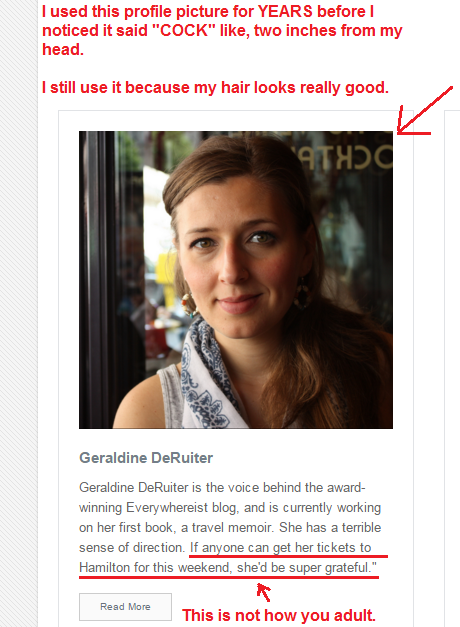 I have clearly lost my mind. If you wish to see me commit such faux pas and failures live, tickets are still available. I'll be the one holding a cupcake (I assume) and making an utter fool of herself.
See you there!
—————
*I have absolutely no proof that Kelly was drunk when she invited me. It's just that I can't imagine a sober person thinking it's a good idea to hand me a microphone.