OSF 2016 Season Review: Yeomen of the Guard, Twelfth Night, Great Expectations, and The River Bride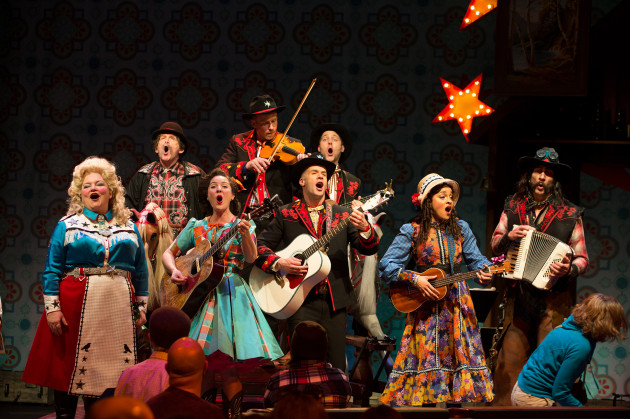 Let me begin with a disclaimer of sorts. For the last seven years on this blog, I have staunchly avoided accepting free trips, tickets, passes, gifts, upgrades, hotel stays, or products. Last month, though, I caved. We were invited to opening weekend of the Oregon Shakespeare Festival, and offered press tickets for the shows, which we accepted. I've heard that everyone has their price, and mine is apparently musical theater.
Scream that the emperor has no clothes if you must, but know that this revelation is less shocking when you consider how much I dislike wearing pants.
I never considered my policy of not accepting freebies as one of moral fortitude; I don't like receiving free stuff because I worry that it will skew my opinion of things – that I will feel obligated to write favorably about something if I didn't have to pay for it. But when it comes to Ashland and the OSF, a place and organization I've loved for a decade, this becomes a moot point. There is an entire chapter of my book that talks about my love for that strange little town that sits snug in the sunlit hills. My affection is immutable and eternal, unchangeable by free tickets to shows that we'd have gladly paid admission for. I've never seen a bad performance there, or even a middling one. They go from good to great. That's it.
(As a further defense, I must note that we'd just shelled out money to see Hamilton, so I was feeling a wee bit frugal.)
And while the tickets were free, there was a price paid – in nearly every instance I feel like I left some part of my soul in the theater, that I retreated from Ashland a little more wrecked and heartbroken than when I arrived. The four shows that opened up this year's OSF season were disparate and varied, but seemed knitted together by one unifying theme: that there is no guarantee that those we love will love us back.
(Please note that there are some spoilers below, particularly with regard to River Bride.)
—————
The Yeomen of the Guard
Not every story of unrequited love need be a sad one. In Yeomen of the Guard, a ridiculous, jubilant little musical with a country-western theme and enough chaps and rhinestones to have made a late-70s-era Elvis blush, I got the impression that even the broken-hearted would turn out fine (it helped, of course, that the jilted lovers – Leah Anderson and Britney Simpson come immediately to mind – were so damn radiant, so irresistibly adorable that we can't imagine they won't instantly meet someone who will return their every affection).
Rand and I had promenade seating for this show, which meant that we were on stage, amidst the actors. The performers would point if they needed audience members to move, and we'd scatter to a new spot and a new vantage point. It was one of the most unique experiences I'd ever had attending a show (there was even a working bar in one corner of the stage, and Rand crept over to it at one point, returning with a lidded plastic cup full of beer, which he contentedly sipped during the rest of the performance).
While Yeomen was fun, this aspect of it seemed superfluous; there was no reason for us to be up on stage – it was never explained, it advanced the plot in no way whatsoever (though I did have the unique privilege of having Mr. Anthony Heald step on my foot.). In the thick of it all, I found myself wondering what the show would be like viewed from the stationary seats that lined the theater. What if I had sat there instead of here? (Those familiar with the affairs of the heart are plagued with questions like that all the time. What if I had turned left instead of right? What if we hadn't met? What if he had found someone else? The answer is simple: don't worry about it. Just enjoy the damn show.)
The performance was utterly ridiculous and fun, easily bordering on insipid were it not for the fact that the OSF cast brings too much talent for anything to veer off too stupidly (K.T. Vogt, with her ridiculous bouffant hairdo, would be brilliant even if she had laryngitis). Bring the kids.
—————
Twelfth Night
Shakespeare's tale of shipwrecked twins, mistaken identities, and utterly confused  lovers also handled the notion of unreciprocated affection with a relatively light touch, with one exception: Barret O'Brien's Antonio, whose devotion to the shipwrecked Sebastian will leave you almost as heartbroken as he is at the conclusion of the play.
Sara Bruner, who has quickly become one of my favorite performers in the entire company, tackles the dual role of twins Viola and Sebastian. The adjustments that she makes when playing a man and playing a woman pretending to be a man are subtle yet completely effective. She gives Sebastian a slight swagger, casts Viola in a cloud of nervous trepidation. In the play's final act, both siblings occupy the stage at the same time, and I found myself anxiously awaiting those final moments to see how the OSF would pull it off. The solution (which I won't delve into so as not to spoil the surprise) is clever and charming and was met with a few excited gasps from the audience. Still, it left me feeling hollow, and when I try to determine why, the only answer I can come up with is this: each of Bruner's characters is so wholly formed, you are sad to learn there is only one of her.
I am reminded of my favorite terrible pick-up line: The world lost a beautiful person when you weren't born twins. 
The comedic elements are solid. Take a date (you'll both leave smitten with Bruner).
—————
Great Expectations
Taking a far more serious note on the theme of unrequited love was Great Expectations, a story I hadn't read since I was in middle school, but which I remember loving at the time (I was an odd child). The acting is effortless. (Judith-Marie Bergen is Miss Havisham. There has never been another.)
Rand positively adored the wedding scene between two ancillary characters – Wemmick and Miss Skiffins – and said it might have been his single favorite moment of any of the shows that we saw (I am inclined to agree). But while he thought the play incredibly well performed, he didn't enjoy it nearly as much as I did. The story is painful. There are scenes that are utterly cringe-worthy, and every moment of Pip's ascent makes you realize how devastating the fall will be. Even the happy moments – like Joe and Biddy, fresh from the alter and smiling brightly – leave you wounded.
As such, Rand was somewhat mystified by my affinity for the show (and, even more amazingly, my long-standing love of the source material). But hell, isn't Pip's affection for the beautiful but cold-hearted Estella just as difficult to justify? Yet another profound lesson about love, courtesy of the OSF: the machinations of our own hearts are occasionally inexplicable to others, and even to ourselves. But there they are.
—————
The River Bride
Rounding out our preview weekend was The River Bride – beautiful, punctuated with moments of levity, and completely, utterly devastating. After it was over, I didn't even have tears; I was felt mired in regret, as though I could have somehow intervened and changed the course of the story, if only I'd been brave enough. I feel like if I went to see it again, things might turn out differently. Completely impossible, but isn't that what the search for love repeatedly asks us to do? To give up your heart again and again, even though you're pretty sure you know how it's going to turn out?
There it is: one more painful tutorial, courtesy of this year's OSF.
I don't want to reveal too much about the plot – one beautifully steeped in folklore and magic, and yet deeply grounded in the heartache and disappointment. It is romantic as hell – some of the scenes between Nancy Rodriguez's Helena and Armando McClain's Moises are swoon-worthy. (Though to be fair, the entire cast has a beautiful sort of chemistry that seems to sizzle and pop on stage. Jamie Ann Romero's Belmira is an annoying little sister for the ages.)
I'm so conflicted on what to tell you about it. It wrecked me, and yet it might have been my favorite show of the season thus far. I find myself fluctuating between those two extremes – love and complete disdain – and wondering why the fuck things can't just go right (FOR JUST ONE DAMN SEASON) for Nancy Rodriguez. She is so utterly human, and so utterly lovable. Alas. That never seems to make a difference.
—————
Our friend who works at the OSF told us that opening weekend has a unique sort of energy – that it's something you need to experience. I'm inclined to agree: everything feels new and exciting, infused with the giddy, nervous energy that characterizes first dates and first kisses and first loves.
And then, more often than not, heartache ensues.
Now that it's over, I'm tempted to recover from opening weekend the way I did when trying to heal a broken heart in my younger years: with a bit of shopping, some cynical poems by Dorothy Parker, and the excessive consumption of baked goods. I thought my years of being agonized by love were long over, but the opening shows of this year's Oregon Shakespeare Festival reminded me that no one is immune.
I guess that's just the price you pay.