Galata Tower, Istanbul, Turkey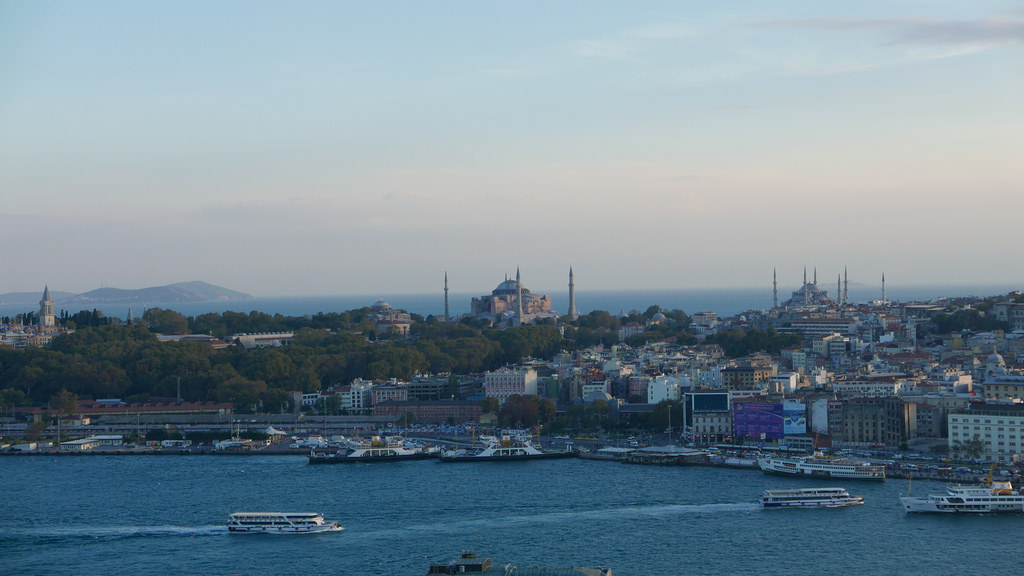 I am not afraid of heights. This is notable, because I have historically been afraid of: a Boston Terrier, my coat (I woke up from a nap and freaked out because I thought it was a cat), and my own shadow (it caught me off guard. At the age of 36). So having a small category of things that do not scare me feels like a triumph. I am fearless when faced with spiders or tall towers or speaking in front of crowds.
Despite my narrow fields of bravery, even the top of Galata Tower, a medieval stone structure in Istanbul, shook me a little, and I imagined that for those who are afraid of heights (or, more precisely, of falling from those heights), it would have been a terrifying experience. But I was mostly immune to this. For me it was simply lovely, and my nervousness about the tower's height and stability was easily ignored.
Originally constructed in 1348, it was once the tallest building in Istanbul at nine stories tall (the observation deck on which Rand and I stood is roughly 160 feet high). Even today the views are remarkable, and you can walk around the entire observation deck and see the massive city and the Bosphorus stretching out around you (admission to the tower is just under five U.S. dollars). The air was remarkably clear (especially given Istanbul's size), the water brilliantly blue, and at sunset – when we were there – the sun caught on distant mosques and we could hear the call to prayer echoing across the city.
During the Ottoman empire, the vantage point offered by the tower was pragmatic – it was from here that fires could be spotted throughout the city. In a rather cruel twist of fate, Galata would be damaged by fire repeatedly over the centuries.
The observation deck is narrow – there were places where only one person could reasonably fit, but this didn't stop people from trying to squeeze past one another. I was occasionally held up by the sheer volume of people, sometimes thrown against a metal guard rail, sometimes pressed against the wall of the tower. I kept pausing to take photos, and in the cluster of people, Rand and I were separated.
I found him again, of course. I always seem to.
Supposedly in the early 1600s it was from here that the legendary Ottoman aviator Hezarfen Ahmet Çelebi leapt, wearing a pair of constructed wings, and flew across the blue of the Bosphorus aided by the wind.
He landed on the Anatolian shores, some 2 miles away. He is credited with the first successful flight wearing artificial wings. (Alas, his success was cut short – his innovation frightened many, and he was eventually exiled to Algeria). I try to imagine the wind as it rushed against his face. How he saw the city in a way that no one had before. How elated him must have been when he touched down on the other side.
As for me, I'll take my narrow window of bravery – there's no need to push it any further. The view from the top of Galata Tower was more than enough.