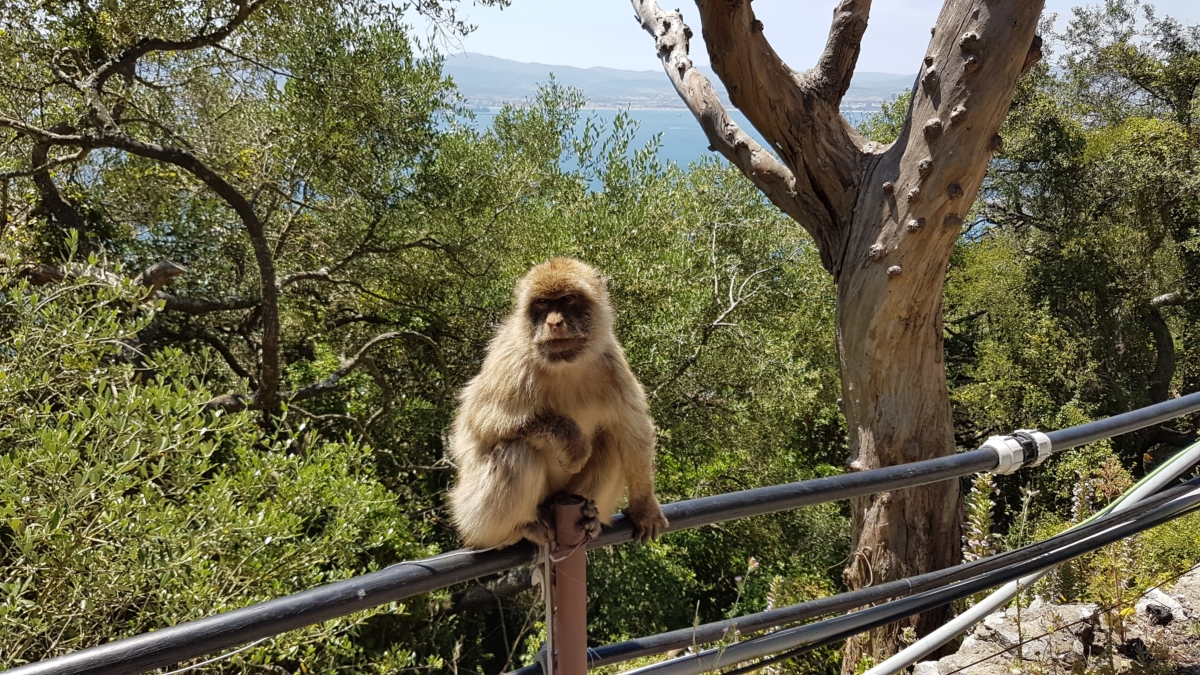 Note: We were in Spain last spring, but work on the book meant that I haven't gotten around to blogging about a lot of the places we visited. In keeping with the better-late-than-never mindset that characterizes much of my life, I'm finally writing about some of the strange and wonderful things we saw. If you want to read more about this trip, check out the posts here that are from 2016.
There are many things that I should tell you about Gibraltar. It's a strange place: it's a territory of the U.K., but it's literally attached to Spain. The Spanish want it back, but the Gibraltarians are pretty happy being subjects of Queen. In a recent vote, less than 1% of the population wanted to return to Spanish rule. It all goes back to the 1700s and the Treaty of Utrecht where the Spanish ceded Gibraltar to the British and I will get to all of that in another post BUT FIRST MONKEYS.
Yes, monkeys.
Another thing that's all over Gibraltar? Signs telling you not to feed the monkeys. There are even drawings which illustrate, rather graphically, what will happen if you feed the monkeys. The food can be harmful to them, and it makes them both far too trusting of and aggressive towards humans. The point is, feeding the monkeys is bad for everyone.
So guess what a bunch of people do the second they see a monkey in Gibraltar?
THEY FEED THE DAMN THINGS.
As you walk around Gibraltar (which is, as the Prudential logo promises, a giant monolith extending out from the sea) you will see a lot of monkeys. There are about 160 Barbary Macaques living on the rock. They are sometimes called "Barbary Apes" because they don't have tails (they are still monkeys, though). They greet you almost immediately upon your arrival, and the entire experience is a bit startling – you are high up on the rock of Gibraltar, the views are dizzying, and there are monkeys.
They are fat and seem quite content provided you don't get too close to them. That's usually pretty easy except sometimes you'll be walking down a path and there's just a monkey just sitting there.
You suddenly hear the Clint Eastwood western showdown music in your head. Conceptually monkeys are like the coolest thing ever but when you actually see a live, wild one in close proximity to you, it's quite unsettling. They have sharp teeth and are profoundly strong, yet there is something uncannily human about their appearance, and all of that is just a little bit terrifying.
Given enough time, though, and things cease to seem all that strange. This massive rock, sticking straight out of the ocean doesn't seem that odd. The views cease to be so dizzying.
And the locals become a little less scary.
(But you still shouldn't feed them.)