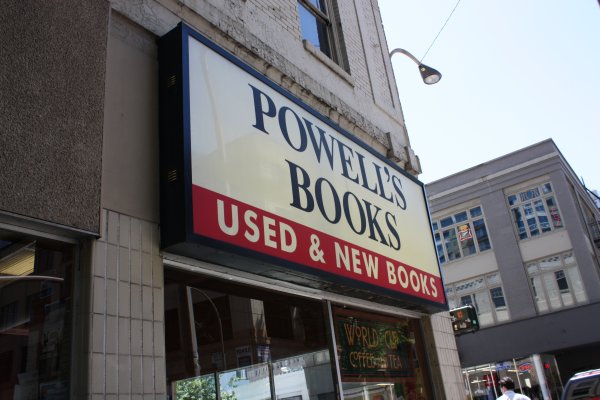 Being in Seattle, it's nice to have Portland so close. Only a two-hour drive to my hometown's weird little sister (the one who's a lot of fun to hang out with, but who'll drink the last of the milk and will sleep on your couch for three months straight). It's so easy to get there that when Rand told me on Saturday that we had to be in Portland by Sunday night, I didn't freak out all that much (though for future reference, darling, I prefer 172 hours notice). Here's a rundown of my 24 hours in Portland – what we saw, did, and ate (plus some other stuff I wish we had time for).
Note: About 2 hours into our trip, I got hit with a nasty head-cold, and was miserable and little fun. Apologies for any missing photos, uninspired sight-seeing and my sincerest apologies to my husband for my incessant coughing.
Been Here, Done That (stuff we felt okay missing this time around):
Portland Art Museum
The museum is closed on Mondays, and we arrived after hours on Sunday. Having been there before, I strongly recommend it if you like museums (don't lie. I know who you are). If you do not, you'll find the run-of-the-mill collections to be rather boring, despite the beautiful space.
Voo-Doo Donuts
Proof that pastries concocted by stoners are only good in theory. Everyone loves salivating over this place, but it's highly overrated. Grocery-store-quality donuts sprinkled with stale cookies or cereal aren't worth waiting in line for. Go once, if you must; it doesn't deserve an encore. We didn't bother visiting this time around.
-clea
What We Did This Time:
Hotel Monaco
We stayed downtown at the Hotel Monaco. Part of the Kimpton group of hotels, it was very nice, located within waking distance to everything, and seemed to have been decorated by a gay Willy Wonka (a concept that may or may not be redundant). They also have a wine service in the afternoon, where everyone heads to the equally flamboyant lobby and gets a little sloshed (I think it may have been complimentary, but I missed it on both days). It's kind of like "Mad Men", but with a little less ass-grabbing.
–
Andina Tapas Restaurant
For some reason, whenever I cross the Oregon border I start to crave tapas (it might be because I suck at geography and for some reason think Spain is south … near Mexico). Someone suggested Andina in the Pearl district. The Peruvian influence is unique, the service excellent, and I got so drunk and happy I stopped taking photos of the food (a good sign). If you go, I recommend the cheese plate, the ceviche, the empanadas, and the grilled octopus – all delicious. Still, Toro Bravo, the spot we hit a few trips ago, was both cheaper and better.
–
Aroy Thai Restaurant
A total hole in the wall, the bellmen at the Hotel Monaco recommended it, as it's where they eat (always listen to the bellmen). Cheap, fast, and so damn good (insert a "just like your mom!" joke here). We had chicken panang curry with mango and Tom Yum soup with prawns. I was feeling pretty crappy at this point, but the food was so good, I momentarily forgot the raging pain in my throat. The final bill? $15.80.
–
The Pearl District
I'd say that the Pearl is my favorite part of Portland – but it's everyone's favorite part of Portland. It's like saying Paul is your favorite Beatle. The love child of Seattle yuppy and San Francisco hippy cultures, you can breeze from Whole Foods to Anthropologie to the independent stores they're trying to put out of business.  Locals hate it when it's written up (on account of a fear of increasing property taxes and being overrun with Californians). But since Seattle was ruined for us, I feel no shame in returning the favor.
–
Powell's Bookstore
If you enjoy books, you'll love this place. If you don't, then please carry on picking your nose and watching reality TV. Powell's is a Portland institution – tons of books, new and old, line the shelves, all at very reasonable prices. Staff is knowledgeable, and shopping here is less soul-depleting than Barnes & Noble. The baking aisle had me at "cupcakes".
–
Saving for Next Time (you know, for when I don't have Tuberculosis)
–
Living Room Theaters
It's blasphemy to go to the movies on a sunny day in the Pacific Northwest (even us left-coast pinko liberals have our ethics) – plus, we were strained for time, so we only peeked in the window of this place. The idea isn't totally unique – a restaurant that gives you table service while watching a movie – but unless they bribed a whole bunch of folks on Yelp, LR Theaters has executed this incredibly well. Next time we're in Portland between the months of October to May, we'll have to check it out.
–
Martinotti's
Here's a secret-  there are virtually no delis on the west coast, and none in Seattle. I kid you not. So while east-coasters wouldn't bat an eye at this place, the cases of cheese and salami captivated me, though no one in the joint looked even remotely Italian. I wanted to get something, but had just eaten. Besides, carrying salami in your purse only works if you're Sofia Petrillo.
–
Radish Underground
Truth be told, I only wandered in because there was an older couple shopping here who looked amazing. Seriously, it was like they took fashion cues from Daryl Hannah's character in Bladerunner (I did not photograph them. It would have been rude). Once inside, I saw some delicate necklaces and a few pieces I liked (note: "pieces" is what you call clothes when they are expensive). The staff was friendly, and all the stuff was from local designers, but I can't shell out $200 for a sweater. Maybe next time.
–
The Galleries in The Pearl
Everyone in Portland is a starving something – artist, musician, interpretive accountant – so it's no surprise that the Pearl has more than it own share of galleries. We passed a few on the way to dinner, but they were all closed by then. I left a greasy nose print pressing my face into the glass, but couldn't make out very much. I hope it wasn't too depressing (expensive art that sucks always depresses me. It involves so much self-denial).
–
The Lunch Carts at 10th and Alder
There is nothing better than food served to you by the same person handling money, out of a stand that doesn't have to meet any sort of health code requirements. Coliform bacteria aside, some of the best food I've ever eaten has been from stands like the ones that span all along 10th and Alder. Plus, it's easy to pick the best stand – just go for the longest line. We had already eaten when we found this spot, but next time …
–
So that was it. I wish I had been feeling better (I'm still feeling pretty damn crappy, actually), and while I wish we had had more time in PDX, I was totally relieved to return to a state where you don't need a prescription to buy Sudafed (yes, really, the meth problem is that bad). I am now blissfully medicated and on the mend. Until next time, Portland.