Because the TSA Won't Ban Reading Until Someone Makes a Book Bomb
It is my utmost pleasure to welcome back the brilliant librarian/historian/bookworm/femme fatale Mindy for our second installment of "Mondays with Mindy". I'm incredibly lucky she agreed to write another guest post for the blog, because I don't know anyone else with her name, and frankly, "Mondays with Mindy … with Geraldine!" sounds like an identity crisis.
All of the content to follow is Mindy's, all typos and formatting errors are mine.

—————
Dear Everywhereist Reader(s),
It's my lucky day! Geraldine asked me back to talk about books again. But this time, we'll gear the discussion toward the frequent flyer. You're lucky, too! Nancy Pearl, the rock star of the library world, has already detailed her ideas of what makes for a great "carry-on book." (Shut up. Do you have an action figure in your likeness? I didn't think so.)
To sum: a good plane trip book has to be deep enough to draw you in and distract you for a good, long while. But it can't be so freaking complex that you can't set it down to let your neighbor use the loo. And it has to be compelling enough to hold you rapt, in the unlikely event you're being harassed by fellow passengers and airline employees for your crazy leftist politics.  (Good job on the Swedish thriller, Geraldine. That's the perfect airplane pick: plot-heavy, fascinating characters, crisp, clear prose.)
Sometimes I think there is nothing better than a good Law and Order marathon, I am still willing to admit that there is a time and a place for great works of literature (G.W.O.L.). The airplane, my friends, is not that time. Heading to Dublin? Struggle through Joyce in the privacy of your own home. Try Benjamin Black or Tana French for that atmospheric Irish in-flight entertainment instead.
Speaking of French, do not be tempted to peruse Proust on your way to Paris. May I be honest with you? It doesn't make you look smart. It makes you look annoying and pretentious. And if you try reading Remembrances of Things Past next to Geraldine on a flight, she will be obligated to write a "Dick Move" about you. And we wouldn't want that, would we?
Instead, may I suggest my favorite airplane read of the past year:  Hunting and Gathering by Anna Gavalda? Or perhaps the latest book club darling The Elegance of the Hedgehog?  Or mayhaps Irene Nemirovsky's posthumously published World War II story Suite Française. Or…you get the picture.
–
Among my greatest reading regrets: attempting The Things They Carried and Gilead at cruising altitude. These modern G.W.O.L. will be forever lost on me. ("Blah blah blah…war sucks…Blah blah blah…pithy end-of-life reflections…Blah blah blah.") As soon as you've been frisked by the TSA, you need to set your literati pride aside and remember that you are not too good for Stephen King or Jodi Picoult.
Speaking of Jodi Picoult, you know you've picked an airplane winner when the flight attendant tells you it's her favorite book, and asks you to let her know when you're done so you can talk about it. Such was the case with My Sister's Keeper. I was en route to a funeral in South Dakota, so I just blamed my tears on the dearly departed instead of the family drama unfolding at 30,000 feet. You can do the same thing!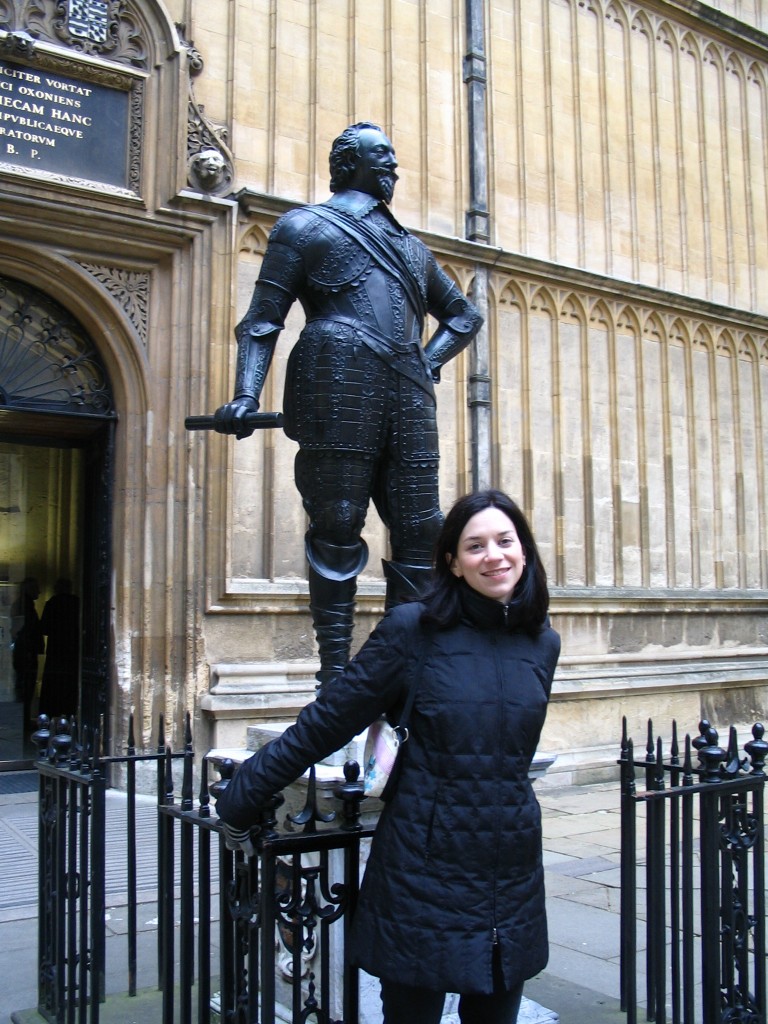 (At the Bodleian Library in Oxford. I read Empire Falls on the plane. I would have finished it on the return flight if it weren't for this damn movie.)
–
Genre fiction and a lot of non-fiction categories often work well for airplane travel. (A caveat: if you're even slightly anxiety prone, avoid books about disasters, even those with happy ends. Say no to Captain Sully's autobiography. Say yes to Captain Underpants.)
While you're driving, graphic novels are a big no-no. Trust me! But they are another great choice for the plane.
–
They're fun, they're fast, engaging, and they have pretty pictures. And they're not just for kids anymore. I have it on good word that Geraldine loves V for Vendetta. I'm more of a Persepolis gal myself.
–
Anyhoo, when in doubt, let the words on the book covers help guide your selection.
Keywords to look for:
Zombies
Adventure
Suspense
Thriller
Vampires
Fast-paced
Stephen King
Vampire Zombies
Couldn't Put It Down
–
Keywords to avoid:
Lyrical
Elegiac
Proustian
Dry
Meandering
Soporific
Nobel Prize Winner
Outrageous plane disasters
Classic
–
–
Finally, I also recommend you always travel with one or two crowd-pleasing magazines on planes. Why? It's nice to have some short, pretty pieces to flip through while waiting at the gate and during take-off and landing, when it's harder to concentrate. I always find when I can't silence the chatty Kathy next to me with my icy Seattle glare, People can usually do the trick.
When it comes to airplane reading, remember, the sky's the limit!
–
Ever sincerely yours,
Mindy
–
Mindy Van Wingen is a librarian, avid reader, and of above average height, for a girl.