Books for the Armchair Traveler
Mindy has, under no duress or guilt, agreed to do one more brilliant blog post for all of us! Thanks Mindy! (P.S. – as soon as the post gets 3 comments, you'll get your dog back, as per the terms specified in our ransom agreement).
————
Dear Everywhereist Readers,
Wow. I'm back. Now I know Geraldine's just taking pity on me. But I'm not going anywhere. And if you're not either, relax. There are many books that use travel as a metaphor or plot device to entertain you, my beloved home-bound readers. In literature, sometimes "road trip" or "journey" or "travel" are used as code words for "voyage of self-discovery" or "brisk plot." Cool, huh?
So let's say you've read all the classics of travel writing, like On the Road or even Bill Bryson or Elizabeth Gilbert (and let's be honest, if you are a female between the ages of 18 and 65, chances are you or your best friend has read Eat, Pray, Love). Don't despair. There are plenty of interesting and new (enough) travel-themed books you may know about. Yet.
Here are a few I've enjoyed, and a two I haven't even read. Yet.
An Abundance of Katherines by John Green
Child prodigy Colin graduates from high school and gets dumped by his 19th Katherine. His best friend proposes a pick-me up road trip. Hilarity, romance, mathematical references, and anagrams ensue.
–
Beginner's Greek by James Collins
Peter and Holly meet on a flight between New York and L.A.. They fall in love. She gives him her number. He promptly loses it. Years later, they meet again. Only now she's engaged to his best friend. (Bonus or warning, depending on where you stand on the issue: It's a treacly romantic comedy that really has nothing to do with air travel at all.)
–
Dear American Airlines by Jonathan Miles
If you've ever missed your connecting flight, you can relate to Bennie's problem. He's en route to his estranged daughter's wedding when his flight is canceled. Stranded at O'Hare, doomed to miss the nuptials, irate, and helpless, he soon drafts a long letter to the airline demanding a refund, and lamenting his life gone awry.
–
The Effect of Living Backward by Heidi Julavits
Please don't read this on a plane. It's about a plane getting hijacked by terrorists, forcing sister travelers Alice and Edith to make some pretty tough choices and confront some grim scenarios. A surreal blend of suspense, psychological intrigue, and dark humor.
–
The Flying Troutmans by Miriam Toews
28-year-old Hattie returns to Canada to care of her sister's two kids when Min enters the psych ward. Hattie, Thebes, and Logan soon set out on a road trip to find the kids' long-lost father. Think Little Miss Sunshine in book form. (Bonus: no awkward Steve Carrell moments!)
–
The Leisure Seeker by Michael Zadoorian
An elderly Detroit couple set out on one last journey in their R.V., much to the chagrin of their adult children and doctors. (She's terminally ill, and he has Alzheimer's.) Destination: Disneyland. It's a sad, funny, sweet, and poignant meditation on end-of-life decisions. (Bonus or warning, depending on where you stand on the issue: elderly sex scenes!)
–
A propos of nothing, here's a picture of four functionally literate people in the middle of the road: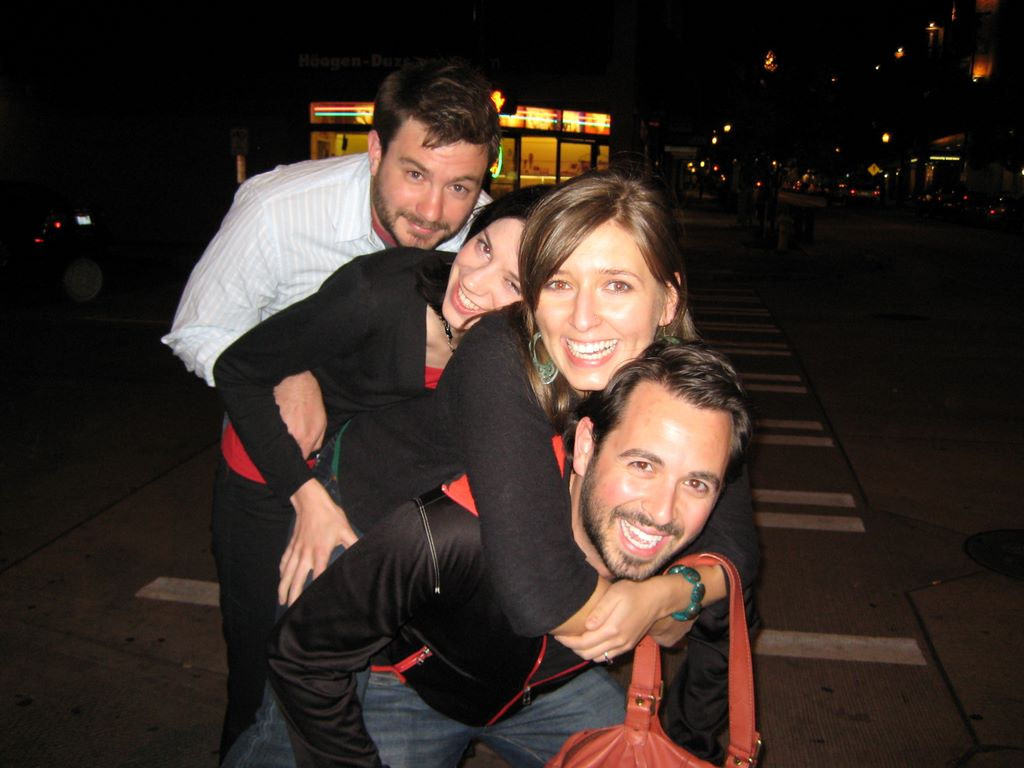 There are a couple more travelly authors I adore but wasn't able to shoe horn into the lists above. But I have no reason not to share them with you now, since Geraldine is paying me by the word. (Note to Geraldine: you are paying me, aren't you?)
Vendela Vida (aka Mrs. Dave Eggers). This literary power couple charmed my free British Airways socks off last year with their twee indie film Away We Go. A 30-something pregnant couple set out to find a place to call home and raise their child. Travel with Bert and Verona to Tucson, Phoenix, Madison, Montreal, Miami…cute, funny, and poignant, and, I think, particularly appealing to those of us in the under 40 set.
Vendela Vida. Vendela Vida. Vendela Vida. It's almost as much fun to say as Katie Skibinski. Katie Skibinski. Katie Skibinski. Katie Skibinski. I said almost.
–
But I digress. Vendela Vida uses the travel as metaphor for self-discovery and healing to good effect in her three novels. Let's face it. Unless you're Geraldine, you will probably never find a reason to go to Lapland and its famed Ice Hotel. But Vida can take you there in Let the Northern Lights Erase Your Name. It's more likely you'll make it to the Philippines, where her character travels after a traumatic attempted mugging in And Now You Can Go. It's also plausible that you'll one day visit Turkey, where Vida sets her exploration of grief in her new novel The Lovers. (Bonus: not only are all Vida's books elegant, thoughtful, and spare, they're all short enough to be read in one sitting.)
–
Speaking of elegant, thoughtful, can-be-read-in-one-sitting books by hot young thangs, may I introduce to you Emily St. John Mandel. Not only is she Canadian, Mandel is also the new darling of the indie bookstore scene and a rising literary star. Her new book, a literary thriller, The Singer's Gun, starts with an epigraph about travel novels. Because it's about travel, identity, escaping your past, and all that serious stuff. But it's a quick, engaging read. Her other novel, Last Night in Montreal, is another literary mystery with characters who are constantly on the run from their pasts, in search of themselves, and in search of each other. Fast pace and gripping plot would make either of these suitable to be read on an airplane.
–
What about you? Any favorite books with travel themes, even if they aren't overtly travelogues?
–
Yours truly, sincerely, always and forever,
Mindy
–
Mindy Van Wingen is a librarian, avid reader, and denies the existence of robots.