Lost in Translation: A Facebook Play
Recently, I posted something to Facebook. Despite appearances to the contrary, I really was thinking in general terms, and not a specific person. Here was my status:
Okay, fine, maybe, just maybe, I was referring to someone I know. Still, I regret nothing. I am resentful and vindictive. This should not come as a surprise. Anyhoodle, my friend Skye, who is talented and wise, quickly chimed in:
–
At this point, my dear little cousin Val jumped in. For the record, she is lovely. I've mentioned this before. Here she is:
–
And as a reminder, here I am:
–
The moral of this photographic story is that recessive genes are a total bitch. But I digress. Val and I are Facebook friends, and our posts to one another are very often in Italian. Despite the fact that her English is nearly flawless, my liberal use of slang is confusing to her. And so, when she saw my post about douchebags, she politely requested clarification:
–
Since most of you probably don't speak Italian, and don't want to bother typing all of that into Google Translate, allow me to do it for you:
Val: Forgive my ignorance, but doesn't "douchebag" mean vaginal douche? Precisely how can two douches mate?
And, well, she has a point. It inevitably led to this exchange …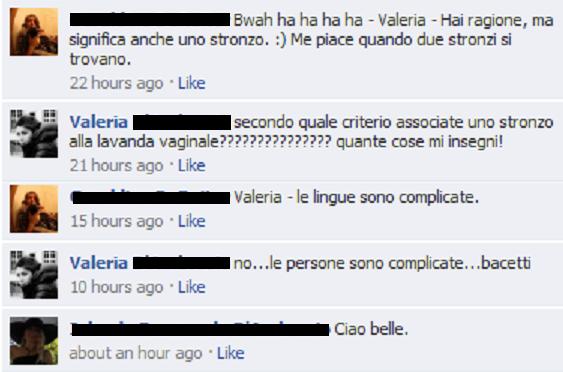 –
Here's the translated version:
Me: Bwah ha ha ha ha ha ha. Val, you are right, but "douchebag" can also mean an asshole.
Val: Under what criteria can you equate a vaginal douche with an asshole???????? I am learning so much.
Me: Languages are complicated.
Val: No … People are complicated.

My mom: (non sequitor) Hi, pretty girls!
–
Aaaaaaaaand Scene!
–