Kirstenbosch National Botanical Garden, Cape Town, South Africa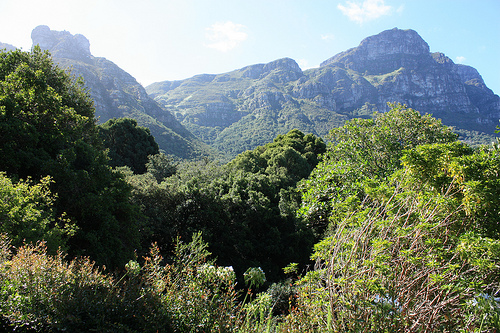 –
I'm not a plant person.
I suppose that's far better than not being a people person. Or not being a dog person. Or a cat person. (For the record, I am two of the three. I'll let you guess.)
It's not that plants and I have a bad relationship (except for blackberry bushes. Those assholes hate me), it's just that we aren't compatible. I shouldn't be around anything that depends on me for nourishment, yet will quietly die without so much as a scream or a whimper.
The only house plant that we have is a poor, limp … you know what? I don't even know what kind of plant it is. It's a poor, limp, long-suffering green thing named Nigel.
–
But after a visit to Kirstenbosch National Botanical Garden, just outside of Cape Town, I started thinking that maybe, maybe I could be a plant lover. Or, at the very least, a plant liker. Or maybe just less of a systematic plant-murderer (for Nigel is the sole survivor in a veritable chlorophyll-tinged bloodbath).
Kirstenbosch is a 15 minute drive from the Cape Town waterfront, at the base of Table Mountain. We took a cab, for which I'm certain we overpaid (but it was still only about $10 or $15, so we didn't fuss).
–
The breeze that runs over Cape Town doesn't reach Kirstenbosch, and we found ourselves wandering around in the searing mid-afternoon sun.
–
–
There are dozens of paths and trails which crisscross the garden. If you are in excellent shape and somewhat insane, you can supposedly follow one of them up to Table Mountain. The hike takes several hours.
–
We didn't do that. Obviously. (We found the panorama at the base of the mountain to be lovely enough for our needs, aaaand we had the added bonus of not getting heatstroke.)
–
–
Still, it wasn't too long before we started to wilt.
–
I suppose there's poetic justice in that, considering what I've done to Nigel all those times. (It usually goes like this: we return from a trip to find him half dead. In response, I pour way too much water on him. He springs back to life for a little bit, then starts to wilt again. Rand insists I throw Nigel out. I refuse. The cycle continues. I am a monster.)
But even in the searing heat, even for the brief time that we were there, Kirstenbosch was beautiful and idyllic.
–
–
–
–
And romantic as hell. Or it would have been, if we hadn't all been slowly melting. And, you know, photobombing one another.
–
Plus, there were five of us, which is a weird number of people to have on a date. Or maybe it's not. I don't know what kids are into these days.
–
Regardless, the company was lovely. Really, when I think back to all the people I've gotten hot and sweaty with …
You know what? I'm just gonna stop there. Before I start giving "horticulture" a new meaning.
 –
Kirstenbosch is one of nine botanical gardens in South Africa. It was founded in 1913 with the goal of preserving the country's many species of flowers. Even today, almost all the plants in the garden are indigenous to the area. Which doesn't sound like a huge deal until you realize that there are more than 22,000 indigenous species, all of which can be found at Kirstenbosch.
If you have time, try documenting all 22,000 species. Be sure to do it in the searing hot sun. Don't take any breaks or drink any water.
No, I'm kidding. You shouldn't do any of that. You'll die.
Botanically speaking, Kirstenbosch is one of the most diverse places on the planet. It also has one of the highest levels of endemism (i.e., species that exist no where else) in the world. The whole place is basically a Benetton ad for plants.
–
The garden, along with several other protected areas which constitute the Cape Floral Region, were declared a UNESCO World Heritage Site in 2004.
–
—
–
Even for someone as nonplussed about plants as I am, it was a great way to spend an afternoon. The garden almost made me rethink my attitudes towards flora.
At the very least, I might start remembering to water Nigel. Maybe.
—————
The Essentials on Kirstenbosch National Botanical Garden:
Verdict: Yes! Even if plants ain't your thing, it's an absolutely stunning spot.


–

How to Get There: We took a cab, which wasn't terribly difficult or expensive. The problem was getting a ride back to town – we had to have someone call us a taxi and wait for it to come out (had we been pressed for time, it would have been problematic). Supposedly though, there are often a few cabs lingering around to take tourists back to town.


– 

Ideal for: horticulturalists, wanderers, plant enthusiasts, and picnickers.


– 

Insider tips: Consider heading to the garden on a cooler day or earlier in the morning to avoid the searing mid-afternoon heat. There are daily walking tours at 10am, Monday-Saturday. And in summertime, there are outdoor concerts on Sunday nights (these require advance ticket purchase, and often sell-out, so if you wish to attend, do plan ahead).


– 

Nearby food: There is a Moyo restaurant inside the garden (we stopped in for drinks and snacks before heading back to Cape Town), as well as a few other cafes.


– 

Good for kids: Absolutely. The garden has plenty of wide open spaces where little ones can run around. Just make sure they don't eat any of the plants. I repeat: DO NOT EAT THE PLANTS.