Cambodia Lesson #14: Gas Stations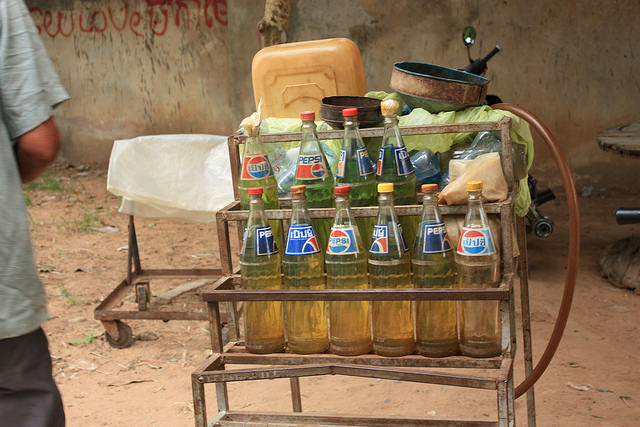 There are no florescent lights. Or aisles and aisles of junk food. There is no plastic container full of beef jerky, no row of humming soda dispensers, waiting to pour out sugary elixirs.
There are no walls, or ceilings. There aren't even gas pumps.
Gas stations are different in Cambodia. They usually aren't much more than a solitary person, standing on the side of a road with repurposed bottles full of yellow fuel. The tuk tuk driver stops next to them, hands over a dollar or two. The contents of the bottle are then poured into the gas tank.
And then you're off again, but not before you realize that you've never actually seen fuel before. At home, you pump it directly into the tank. If someone had asked you, you'd have guessed that gas was as dark and thick as molasses. Instead, you find it sort of looks like canola oil.
None of this is particularly notable, but it makes you realize that you are very, very far from home. And even when you get back on familiar turf, it won't look the same ever again. It isn't just that Cambodia is different – it's that Cambodia makes home feel different.
And that, you realize, is probably the whole point of travel, anyway.