Returning to Bushman's Kloof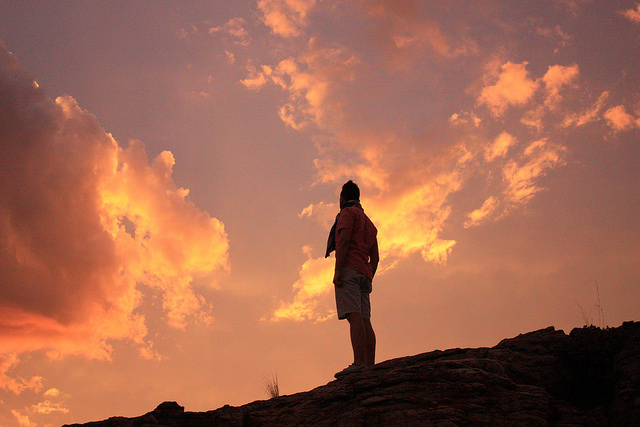 People were surprised that we were heading back to South Africa.
Weren't we just there?
It was two years ago, actually.
And we're going back to the same places we visited last time?
Yes. Yes, we were.
It sounded a little bit strange. Possibly the makings for a dull trip. After all, we'd been there before, we'd seen what there was to see. As far as travel writing goes, it wasn't good fodder. It was hard to explain our motivations to people: how Rand had been itching to go back since the day we left. How I promised him we'd go back.
There were a few times when I shared everyone's skepticism. Maybe this was a crazy idea. There were other things to see. Other places to go. You can't simply declare a place the best spot in the world until you've seen all of it, right?
But then we got back to Bushman's Kloof. And from the very first sunset there, he was there – that strange iteration of the man I love. That relaxed and happy version of him that I see so rarely. The one that makes an appearance every time we are at the Kloof.
Of course we came back. I'd have gone anywhere to see him again.
I won't lie: this trip to the Kloof lacked the newness that surrounded our first trip. There wasn't quite the same mind-boggling wonder. There wasn't nearly as much uncontrollable giggling. But even so, this one was magical. It might have been even better.
Because we knew what we were getting: we knew about the cave paintings and the archaeological significance of the place.
The animals and the nature drives.
The gourmet meals and the high teas.
We knew about all of these things. We remembered them vividly from our last trip, and we expected that those moments sparkle just as brightly this time as they the first. That's a tall order. That's a lot to expect of anyone or anything.
And still, the Kloof delivered. On every promise we made to our friends, and more. There were more animals. More adventures. More moments when I found myself thinking, "This is the most beautiful place I've ever seen."

The surprise, I realize, is not that we came back. The surprise is that we ever managed to leave in the first place.*
—————
*Okay, so Rand says it's not at all surprising that we left because we'd have gone bankrupt if we had tried to stay there for two years. Also, the gourmet cooking might have killed us. HE IS ALWAYS DESTROYING MY POETRY WITH HIS LOGIC.