The White House Wants You To Travel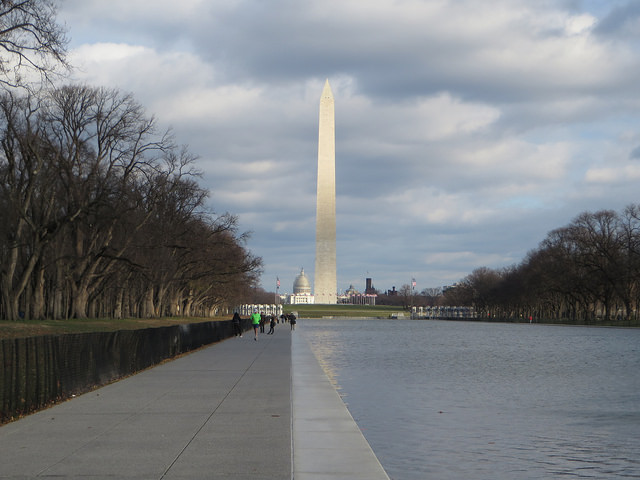 … and I'm pretty okay with that.
I am conflicted and hopeful. I guess politics will do that to you.
I got home last week from my first trip ever to D.C. It was brief, yet felt monumental in all sorts of ways. Perhaps because I was surrounded by monuments.
It was my first trip to the nation's capital, and my first truly solo trip. That seems strange and almost impossible – I'm a travel blogger, after all. I should go places alone (and, indeed, I spend most of my travel days by myself, roaming around the city). But the actual traveling aspect of the trip has never been solo. I've always flown with a friend, or Rand, or arrived somewhere and met family or loved ones. I've never landed in a strange city, truly on my own.
This time I did. And it was kind of wonderful. I prefer to fly with my beloved, prefer to curl up in a hotel bed with him at my side, but it was nice to see that I could go at it alone, and be totally okay.
As a friend put it, "This means that you are officially a grown up."
The impetus for my trip was an invite to an event at the White House, targeted primarily to travel bloggers and a few educators (and a few traveling educators). The State Department is opening a new office with the specific goal of sending more college students to study abroad. Presently, fewer than 10% of all college students study abroad, and that number is disproportionately white.
I think it's a noble goal, if a self-serving one: there is a strong correlation between holding a passport and voting Democrat. That's not to say that getting a passport will ensure the Dems easy wins in the future, but there is something to be said for making your citizens more worldly, especially if it helps you get into office.
I was initially unsure of whether or not to attend, as I don't go on promotional trips, and while this one was not technically sponsored (hotel and transportation were not included, but there were hosted meals and various freebies), the State Department clearly had an agenda.
However, I felt that was something I could get behind.
I've been working on my book rather steadily for the last few weeks, and one of the biggest lessons to emerge from the manuscript is this: Get a Passport (and yes, I've capitalized the P, because it's that important). My mother got me my first Passport when I was only a few months old. This is not a contradiction to my values.
So I went to the event. They began with a tour of the east wing of the White House (which had been decorated for the holidays), and I am not above being charmed by portraits of former presidents and twinkling lights.
Later, we listened to various speakers, including the White House's Chief of Staff, Denis Donaugh. Here he is looking enthralled that I am taking his picture.
I stopped taking photos of speakers after that, because I was scared to. (Were we not supposed to take photos? NO ONE TOLD ME AND EVERYONE ELSE WAS AND … oh, god. I go to the White House and act like a middle schooler.) We also heard from other staff members that day, including Tina Tchen and Ben Rhodes.
There were panels of speakers as well, including Carrie Hessler-Radlett, the Director of the Peace Corps. While I think she did an excellent job, this still made me weirdly uncomfortable. The Peace Corps' track record with protecting and helping female volunteers who have been victims of sexual assault is not great. Hundreds of women have been attacked, and many have felt unsupported in the aftermath (the organization has not helped volunteers get abortions when they were impregnated by their rapists, but has offered to cover parenting classes). I said as much on Twitter.
Don't want to create the impression that travel = dangerous, but the @PeaceCorps has a bad record. Can't gloss over that. #WHTravelBloggers

— Geraldine (@everywhereist) December 9, 2014
I appreciate that Director Hessler-Radlett is new to the post (she's held the position for less than six months) and I'm grateful for her dedication to maternal health and the HIV/AIDS epidemic. Also, I realize that she's trying to make things better for female volunteers and encountering problems with the organizations itself. But I'm still upset that safety wasn't brought up.
I have other criticisms with the event – like, I don't think the plan is a perfect one. The officials who spoke talked about making travel – and college in general – more affordable to young people, including those underrepresented members of the population. Obviously, I am for that, but I am inclined to think that the problem starts earlier. In order to attend college and study abroad, you need to be address economic and education disparity that kids face beginning from when they are in diapers.  
Concerned a/b how economic disparity influences travel. You can't study abroad if you don't graduate h.s. #WHTravelBloggers — Geraldine (@everywhereist) December 9, 2014
That doesn't, of course, mean that we shouldn't make travel easier for people who are in college now. No. Absolutely not.
I say none of this to be disrespectful – this was the stuff that stuck out to me. Things that I wanted to comment on, and did (at least, on Twitter). It was validating to think that my opinions had value, and to be able to voice them. To be surrounded by a lot of accomplished writers, especially when one considers that my blog largely covers issues like eating dessert and making out with my husband. And yes, these proclivities also made themselves known as I spread the word about the new program:
Because college is about figuring out who you are, and making out with people in foreign lands can help you do that. #StudyAbroadBecause — Geraldine (@everywhereist) December 11, 2014
Because if we want to stay competitive in a global market– OMG THERE IS NUTELLA ON EVERYTHING HERE. #StudyAbroadBecause #WHTravelBloggers

— Geraldine (@everywhereist) December 11, 2014
I guess there's something nice about realizing that no matter the circumstances, no matter where this blog leads me, it will always, fundamentally, be a reflection of who I am. That I can find myself in my country's glittering hub, and still be able to think about matters critically (mostly). That I can wander to ends of the earth, and my priorities are the same: liberty, cake, and justice for all.
That's a pretty damn good feeling. And I hope this program enables others to feel the same way.