Street Art in London's East End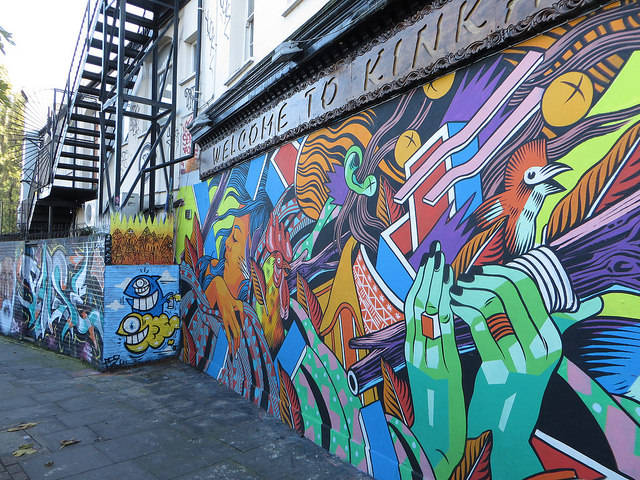 I tried to do a street art walking tour when we were last in London. I've always wanted to take one, to have someone point out the Banskys that I've walked by a dozen times and failed to notice. When we were there in the fall, the weather was unseasonably warm (the last day of October it reached an unheard of 70-degrees in the city. I wore a sundress. Rand had on short sleeves.) – perfect for wandering through the East End and admiring the works of not-quite-unknown artists.
The problem was, I couldn't find a tour. Despite what their websites claimed, tours were on weekends only, and I was looking for something on a Tuesday or a Wednesday. So Rand and I just went on our own.
This was less jarring for him than it was for me. When we tour museums, I read every single placard and note. I need context and background. I need someone to tell me exactly what I'm looking at, or, failing that, at least who made it and when. But Rand roams around freely, scarcely reading a thing. He just meanders through a gallery and stops only when he sees something that calls his attention.
It's madness. And it's what we did in the East End on that sunny day.
I don't remember where we started. On Brick Lane, maybe?
It's wasn't all that different from a gallery, really. Except for the bags of trash lying near the works. And the fact that you can take lots of pictures and not feel gauche.
And absolutely everything is mixed media:
Some of the works were massive, encompassing an entire storefront. It was impossible to miss them:
Others you had to search for, or you'd walk right by and miss them.
Here's the same little guy again, in the lower right-hand corner. I assume it's the same artist, but it's hard to say. Street art can be derivative. Literally. Someone makes something, and someone else builds upon it.
We stopped a few times. Once for a snack:
(This was at Beigel Bakery on Brick Lane, which I highly recommend.)
Or was it twice for a snack?
And we popped into stores as we went along. That's the upside of not having a guide or an itinerary. You don't really know what you are looking at, but you go at your own pace. You get lost. You shop. You eat bagels. And you appreciate things for what they are.
Sometimes, you are even able to figure out the story behind some of the works.
This is a mural of Charlie Burns, known as the King of Bacon Street. His family has owned a business in the area for more than 150 years. He's kind of a legend:
Conversely, I have no idea what's going on here:
… but isn't it grand?
That's a sentiment we kept repeating again and again. I don't know what this is, but it's amazing.
I've learned that when it comes to appreciating art, or places, or even people, that's the only thing you really need to remember.
—————
If you want to take a guided tour of the street art in London's East End, there are plenty of options to chose from (though during the summer there are inevitably more tours). I cannot vouch for any of these personally, but I've listed a few below (note: I'm doing so of my own volition and not at the behest of any of these groups). I contacted several of these on my last trip, but was unable to book anything, so if you want to take one, plan well ahead: