Why are Some Croissants Straight, and Others Curved?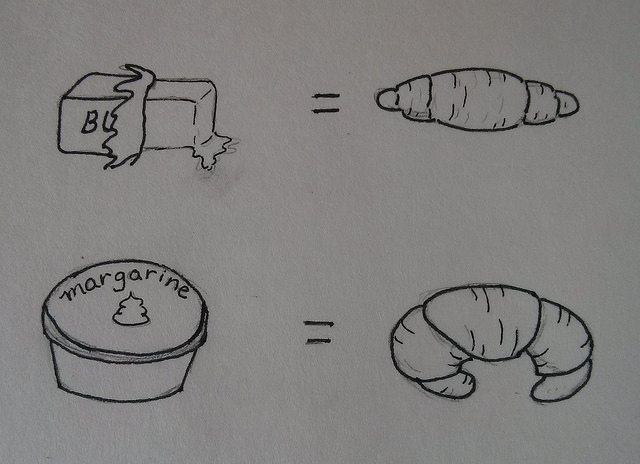 "I wonder why some croissants are straight and others are curved."
"It has to do with butter content."
"Wait, what?"
"The ones that are straight are made from butter. If they're curved, they're made from other fats, like margarine or whatever."
"WAIT, WHAT?"
"Yeah. In France, it's the law. I don't think the rule holds true in the states, though."
"WHY HAVEN'T YOU WRITTEN ABOUT THIS ON YOUR BLOG?"
"I … I guess I didn't think it was important?"
"It is literally the most important thing you have ever told me, ever."
And so, at my husband's request, today is about croissants. And yes, there are laws about this in France. Actual laws. Can you see why I love that country so much? They take their baked goods seriously, damn it.
The law, as I mention above, is pretty simple – if you have a straight croissant (which is kind of an oxymoron, since the word croissant actually means "crescent") in France, it will be an all-butter croissant.
Croissants that use any other type of fat (even if it's something like 95% butter and 5% margarine) cannot be straight (and will usually be in the iconic crescent shape).
Here's the thing, though – even though all straight croissants are made from butter, not all butter croissants are straight. They can be whatever shape they want to be. (It's like the rule about how all squares are rectangles but not all rectangles are squares.)
I have made a few relevant doodles to help illustrate this, per my husband's request. First, a quick way to remember that all-butter croissants are straight (hint: straight croissant = straight stick of butter.)
And because I realize that the drawing above is an oversimplification (and that a curved croissant isn't necessarily not all-butter), I made this Venn diagram:
In my research, I learned a few more croissant-related facts (note: when your job entails that phrase, life is good):
You don't put butter on an-all butter croissant. Jam is totally acceptable, but butter is overkill.


–

You can put butter on a not-all-butter croissant, but you should not cut it in half and smear butter on the halves. Instead you butter the end, take a bite, then butter it again and take another bite. Butter, bite. Butter, bite.
And there you have it. The most important piece of information to have ever appeared on my blog. Bon appetit!