The Crystal Pools, Bushman's Kloof, South Africa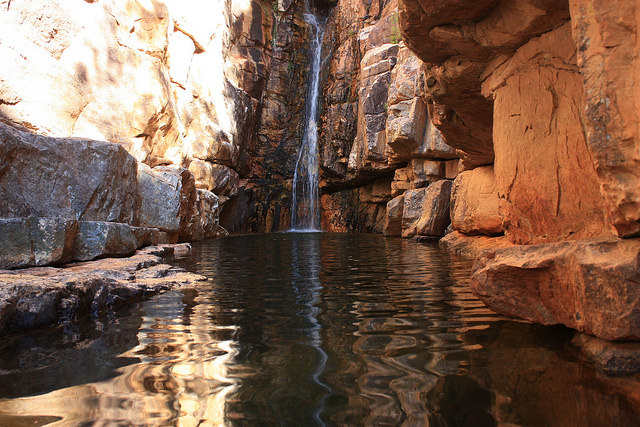 Not every element of our trip in Bushman's Kloof was Jack-proof.
When Reggie, our field guide, told us about the crystal pools, he explained that the hike wouldn't be appropriate for a toddler, and the staff made arrangements to have Malcolm, our lodge manager, watch Jack. I wish I had a photo of the expression on Malcolm's face upon our return. He looked like a man who had seen unspeakable things.
Jack was unphased by the his babysitter's woes; when we returned to the lodge we found him walking triumphantly around, like a wee blonde Napoleon. It was adorable. And Malcolm probably had it coming.
And Reggie had been right. The hike was not Jack-appropriate. It was barely appropriate for anyone who wasn't a triathlete. There is evidence of this in the following photo, which is possibly one of the worst ones of me ever taken (and naturally, has already been published on this blog):
As you may have noticed, I am sweating. A lot.
Honestly, I don't even know if it could be considered "hiking." It was more "climbing up a damn mountain" under a blistering sun.
It was steep and exhausting. The kind of hike that makes you wonder, "Is this worth it?" Especially when you consider that we had access to pools at the lodge, and also margaritas and cupcakes.
And then I learned that it was, without question, worth the hike:
The pools were at the bottom of  a narrow ravine, fed by a waterfall. And the water, as Reggie had promised, was clear all the way to the bottom – a good ten feet.
I think I might have peeled off my shirt before jumping in. Or possibly thrown off my hat. I know that not a lot of thought was put into it on my part.
I just jumped. We all did.
(My apologies on the light on some of these. It is very difficult to capture images when you are standing in the sun and everyone is relaxing in a crystal pool in the shade. These are good problems to have, though. Very good ones.)
Fun fact: I saw the thumbnails of these photos, and in a bunch of them I thought, "Holy crap, I look amazing." And then I'd click on them and realize it was Tabatha. I kept doing it, though. Like, five or six times. The power of denial is an amazing thing.
We stayed there until the heat began to dissipate from our skin. We snacked and took photos.
Then we hiked back down.
And we drove back to the lodge, and back to Jack, who was unscathed. As for Malcolm … well, he was a weensy bit scathed.
And the story should end there. But there is a tidbit that I have yet to share with you. I'm including it now, at the end of this post, because I realize that any photos that come after it will pale in comparison. Any words that follow will be lost. It is the blog equivalent of a mic-drop. There is nothing after. Only thunderous applause and a few jaws hanging slack in awe.
Here's how it came about:
At some point, we all agreed that we should try to stand underneath the waterfall at the crystal pool, like in a sexy shampoo commercial. There was a problem, though: standing underneath a real waterfall is pretty difficult because a waterfall is pouring down on you and there are usually sharp rocks underneath you.
Here are my feeble attempts:
We were all hit with the sad realization that life is not a shampoo commercial. And so the results were rather middling, except for one of us. One of us was an absolute natural.
Ahem.
I give you Marshall:
It's basically like his whole life has been spent training to be in a shampoo commercial. And when we climbed to the crystal pools, he was like, "YES. IT IS MY TIME TO SHINE."
And really, there is nothing more to say about it. The mic has been dropped.