The Inevitability of Red Wine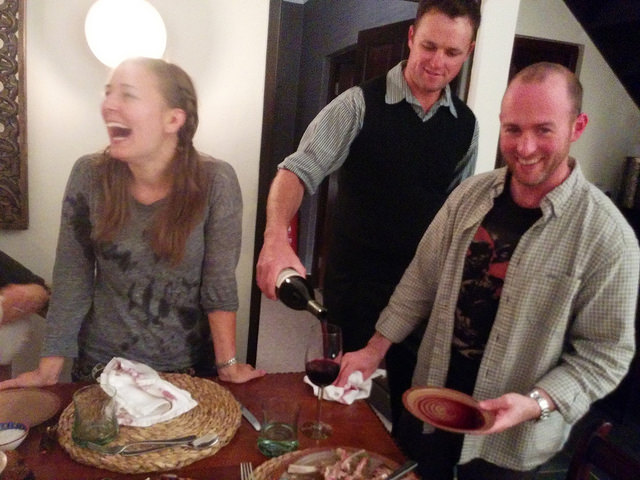 My husband has a habit of wearing his nicest clothes around his favorite toddlers, and after I found myself scrubbing blueberry out of his favorite dress shirt, I kindly suggested through clenched teeth that he be a little bit more careful. Or that he consider wearing something less expensive and more machine washable.
And because life is about inevitability and just desserts, I had repeated this again over dinner one night at the Kloof, when Rand was wearing a beloved button-up and dear Jack was very close to leaving the indelible mark of toddler friendship upon him.
And as though words had barely left my lips, that toddler's father, my friend Eric, spilled a very full glass of wine. All over me.
Honestly, with the degree to which I was saturated, it was almost like it was flung in my face. Not that I'm saying that's what happened. Just that it seemed rather suspicious. And I'd like to see the taped replay.
Like a true gentleman, the first thing Eric did was pluck two lamb chops out of the way, lest they be soaked by wine. Then Reggie heroically ran over and refilled Eric's glass.
As I stood there laughing, I thought: I deserved this. I did. And for a brief moment, I understood Rand's reluctance to hold toddlers at arm's length. That it's only clothes. And sometimes getting splashed with wine or splattered with mashed potatoes is just a hell of a lot of fun.
And while there is undeniable truth in that, there's one more thing to consider: Rand is not the one who does the laundry.