Hallstatt, Austria: So Pretty, China Made a Counterfeit Copy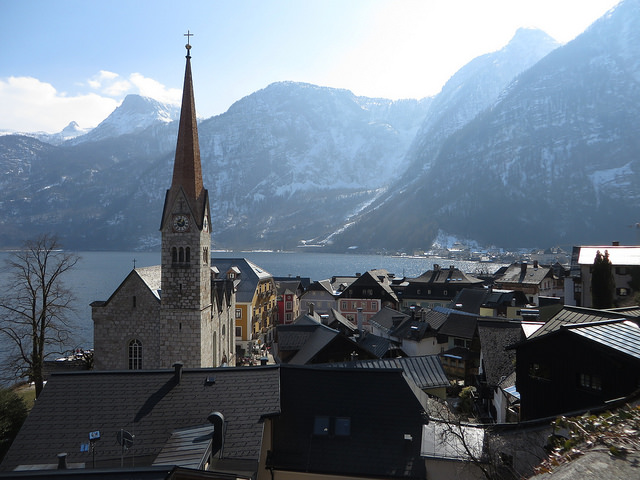 I don't think Jeff and Amanda knew what to make of me at first. Rand had met Jeff a few years prior when he was having technical issues with his personal site, and Jeff jumped in to help. I didn't know him, but when I saw the panic that he had erased from my husband brow, I said, "That dude is a mensch."
"Indeed he is," Rand agreed.
When they found out we'd all be in Germany at the same time, Jeff and his wife suggested we meet them at the Intercontinental Hotel in Berchtesgaden. It was one of the loveliest hotels I've ever stayed in, and when I first saw it, I chose an uncommon means of conveying the sentiment to them.
"This place is gross," I said, as we stared out onto the snow covered peaks that surrounded us. They were stunned for a second, and looked at me blankly.
"Just … gross," I repeated. "Mountains are stupid."
What I had been trying to say was that the hotel was chic and elegant, the view unparalleled, and praise would simply exhaust the sentiment. It looked like the lair of a Bond villain, and Rand and I took every opportunity to point this out.
"You expect me to eat all of this?" we'd ask one another over an opulent breakfast.
"No, Mr. Bond. I expect you to die."
We carried on like this for days. I suspect a sugar high was partially to blame. I'd used it as a mechanism for combating jet-lag, fueled by no less than six topping options for waffles.
When we eventually parted ways with Jeff and Amanda, I had the distinct impression that they thought I was a nutter, until Amanda emailed us a few days later. She told us how she had wanted to purchase a bedazzled hat and Jeff advised against it.
"Geraldine would let me buy it," she said.
Jeff could not argue with this – it was undoubtedly true. They did understand me. In response, I sent them a variety of Amazon links to at-home bedazzling kits and told Jeff he hated both America and freedom.
They were the ones who recommend the tiny Austrian town of Hallstatt to us. We'd never heard of it.
"You'll want to take pictures on your way into town," Jeff said. "But don't. Just wait until you get there."
Unlike the bedazzled hat, he was 100% correct in this sentiment. We were tempted to pull over the car on our drive in, but waited until we arrived. Our restraint proved worth it, as it offered us more time in Hallstatt.
It sat on a glittering alpine lake and looked like a postcard.
Jeff told us that the entire town had been replicated in China. It cost $940 million to build, and was backed by a Chinese tycoon and a mining conglomerate. The entire project was a secret, until a Chinese tourist visiting the original Hallstatt let the entire thing slip out (a detail which I love).
There was some controversy among the locals about having their town copied, but it seems to have died down. Hallstatt now gets thousands of tourists from China each year – suggesting that there really is nothing like the original.
We wandered around the little village, hoping the sun would warm the chilled wind that came over the mountains and off the lake. It was as though someone had taken everything Austrian – cakes, beer, little white houses with wooden roofs, that singing nun from The Sound of Music – thrown them in a pot of water of water, and let the thing boil down for hours. What was left was Austria, concentrated and distilled. What was left was Hallstatt.
We walked up stone stairs and found ourselves in the graveyard of a tiny church that overlooked the town and lake.
The grave markers were wood, and looked like tiny cottages.
I have a profound affection for any place that reserves prime real estate for the deceased. It's completely illogical, and yet it seems as though they have their priorities straight. Indeed, the cemetery had some of the best views in town.
We walked beyond the church, and found a small landing with an equally fantastic panorama.
I forced my beloved to take a few photos with me, and laughed when I saw them. The church spire seemed to emanate directly from his head.
As we walked out of town in the sunshine, I once again found words insufficient.
"This place sucks," I said.
"I know, baby," Rand said, putting his arm around me. "I like it, too."