Tower Bridge Exhibition, London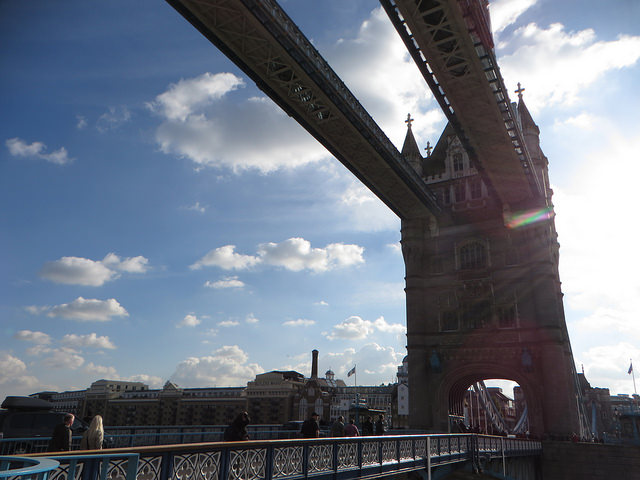 Prior to my most recent trip to London, the only thing I knew about Tower Bridge was this:
In 1967, an American named Robert McCullough bought London Bridge, dismantled it, and had it moved to the states. The rumor is that he had confused the rather drab and plain bridge he'd purchased with the more architecturally interesting Tower Bridge. McCullough fervently denied that this was the case, stating that he meant to spent a crapload of money to move the much uglier bridge to America. (I'm sure we've all been there.)
That's it, really. A rumored case of misidentification by one of my fellow Americans was the extent of my relationship with the London landmark. I'd never even walked across it, and had only seen it from a distance. On a sunny October day a few weeks ago, I figured that it was time I changed that. Because the entire point of bridges is to cross them. Preferably while eating cookies and taking lots of selfies.
The Tower Bridge Exhibition allows you to tour the interior of the eponymous bridge, taking you up into its towers, crossing the Thames on its raised walkways, and back down into the Victorian engine rooms. At £9, admission is reasonable (it's free if you can convince the staff that you are under 5, an endeavor at which I failed), and on a sunny weekday the line to get in was short.
The exhibition begins by offering some background on the iconic structure. In the late 1800s, the volume of traffic across the Thames was so great that a new bridge spanning the river became necessary. A fixed bridge couldn't work because of it would block ships from entering the Pool of London, so a drawbridge was proposed, and a public competition for designs was held.
The winning design was submitted by Sir Horace Jones, which seems patently unfair, considering that he was on the judging committee for the competition. Apparently in 1884 conflicts of interest had yet to be invented. Construction on the bridge began in 1887, and Jones would die the following year. It would be another seven before the bridge was completed. The completed bridge took 70,000 of concrete and 11,000 tons of steel to build, none of which is very comforting if you are afraid of heights.
Fortunately, I am not.
Mostly.
The exhibition is self-guided. You can tour the towers and stroll down the walkways that span the Thames.
Some of these walkways are partially glass, so you can look down and see the rush of London traffic beneath you and the cloudy water of the river below that.

Stepping onto the glass, you may feel your stomach do odd little somersaults. That is thousands of years of instinct and evolution telling you that it would prefer it if there were ground beneath your feet. Feel free to ignore this overwhelming sense of primal discomfort and fear. It will go away (sort of) after a few minutes.
If you are very young, it might not bother you at all.
On a sunny day, the views are nice, though you will find yourself peeking through the metal armature of the bridge in order to appreciate them.
Once you are ready to return to lower elevations, you can walk down to the engine rooms.
If your experience is anything like mine, you will need to take extra caution to avoid the crowd of young high schoolers who are projectile spitting into the river below. (I fear for the future, but that's another post.)
The system to open and close Tower Bridge was updated decades ago. Though these engines are no longer in use, being down there feels a bit ominous.
It isn't the most miraculous thing to see in London, but I got to look at the city from a different vantage point.
I'm starting to realize that's what this trip to London was all about.