La Ciudad de Las Artes y Ciencias, Valencia, Spain.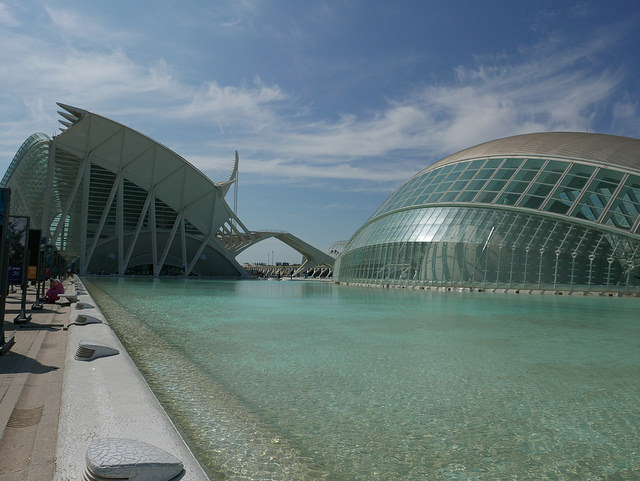 I've tried to write about La Ciudad de las Artes y Ciencias (The City of Arts and Sciences) before. It's a rather remarkable collection of buildings (an aquarium, a science center, conference halls) in the center of Valencia, Spain, architecturally fascinating and utterly unlike anything I've seen in my travels. I wanted very much to share them with you. But some posts just don't land right – you try and get them started but can't pinpoint the tone or the mood, and then you get distracted because you were eating tortilla chips and you found one that looked just like Keanu Reeves. You know how it is.
Sometimes words fail you. And most of the time, when that happens, I just let it be, because trying to force the writing out of your brain is maddening. But every now and then Rand is able to put into words what I can't, and there really isn't anything left to do but quote him. (This has the added advantage of resulting in less work for me, which is always nice).
And when it came to the Ciudad, he did just that.
In Valencia, hard to shake the feeling that aliens parked some spaceships downtown & the city's just playing it cool pic.twitter.com/i6bIThv9zy

— Rand Fishkin (@randfish) May 21, 2016
Like "Oh. That's nice. Think I'll go for a jog beside it." pic.twitter.com/DYE0z7Jo4g

— Rand Fishkin (@randfish) May 21, 2016
"That one's nice. Let's put a tapas bar next door." pic.twitter.com/ZpY1RyIF38

— Rand Fishkin (@randfish) May 21, 2016
I watched him leave in the morning and head to work as though there were nothing out of the ordinary.
"Well… I suppose we should make the most of these and have @gfiorelli1 organize a conference in it." pic.twitter.com/3XLmGFEesM

— Rand Fishkin (@randfish) May 21, 2016
That's something I've noticed about Spain – people are very cool with weirdness. Especially weirdness as it pertains to architecture. 
Does it look like an Storm Trooper helmet? Cool. Totally fine.
Like the skeleton of some giant, alien creature? No problem. Great place to hold a work event.
In the end, you get used to the weirdness. You delight in how strange and wonderful it is. Even if you can't put it into words.