If Twitter Responded To Abuse Reports Honestly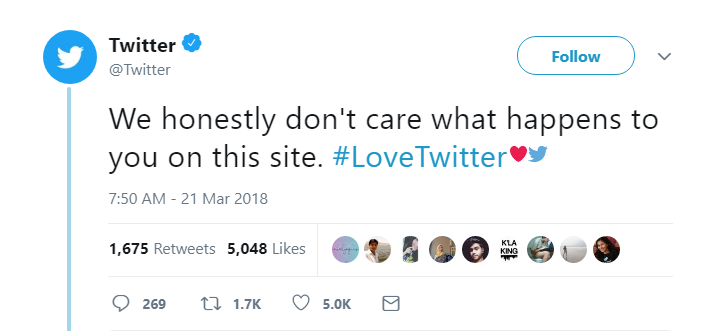 I spend too much time on Twitter. And, frankly, it's awful. Every day is like wading through a sea of poop to try and find a cupcake, and even when you find that, it's like, "Well, I can't possibly eat this cupcake. It's covered in poop."
As a writer, Twitter becomes a sort of necessary evil. It becomes the conduit by which I and others share our work, by which I poll people outside of my immediate social circle for ideas, how I try to foment interest in a new project, and where I learn how to properly use words like "foment."
It also is a total waste of time, and for someone with a history of fucking brain tumors, I should really know better. I spend hours on Twitter – and online in general – every day. At the same time that I argue that I don't have time to work out or do laundry or put on actual pants, I spend hours fighting with people on a website and half of them aren't even real people.
THIS HAS NOTHING TO DO WITH MY WORK. I'M JUST SCREAMING AT ASSHOLES OR BOTS THAT ARE TRAINED TO BE ASSHOLES.
I spend my days ignoring most of my mentions because they are filled with abusive comments or insults. But occasionally, one will slip through, and I will report it, because there is little recourse. A block gives the troll exactly what they want. A block is more credit than they deserve (Rand disagrees. Block, he tells me. Block with abandon).
And Twitter, time and again, gives me this message.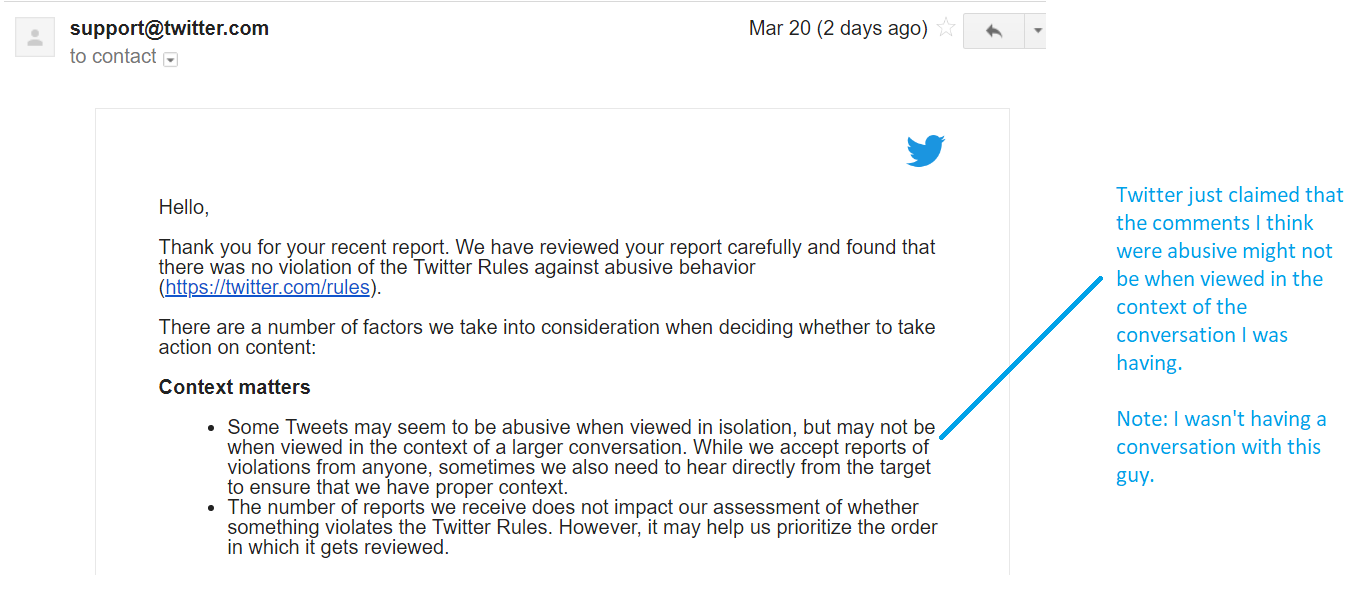 They give everyone this message. In response to threats and harassment. In response to targeted abuse and vitriol. They don't do this in other countries. In Germany and France, where hate speech is outlawed, Twitter has taken action against stuff like this. But in America, it's a free-for-all
In honor of my wasted morning, and what inevitably feels like will be my wasted life, I've rewritten some of Twitter's responses to my abuse reports to better reflect reality. (A big shout-out to @evanskaufman, who gave me the idea for this post when he sent me this deliciously sarcastic tweet.)
Twitter, feel free to use these. They're a little more honest than your current replies.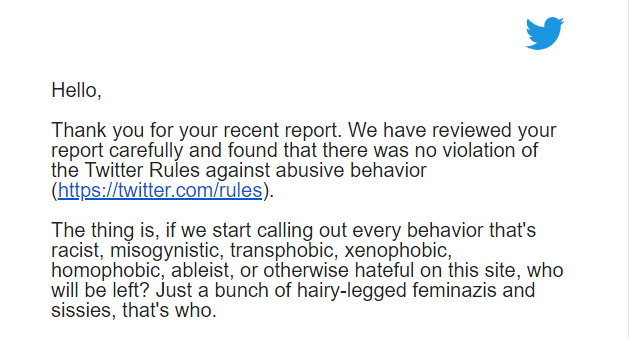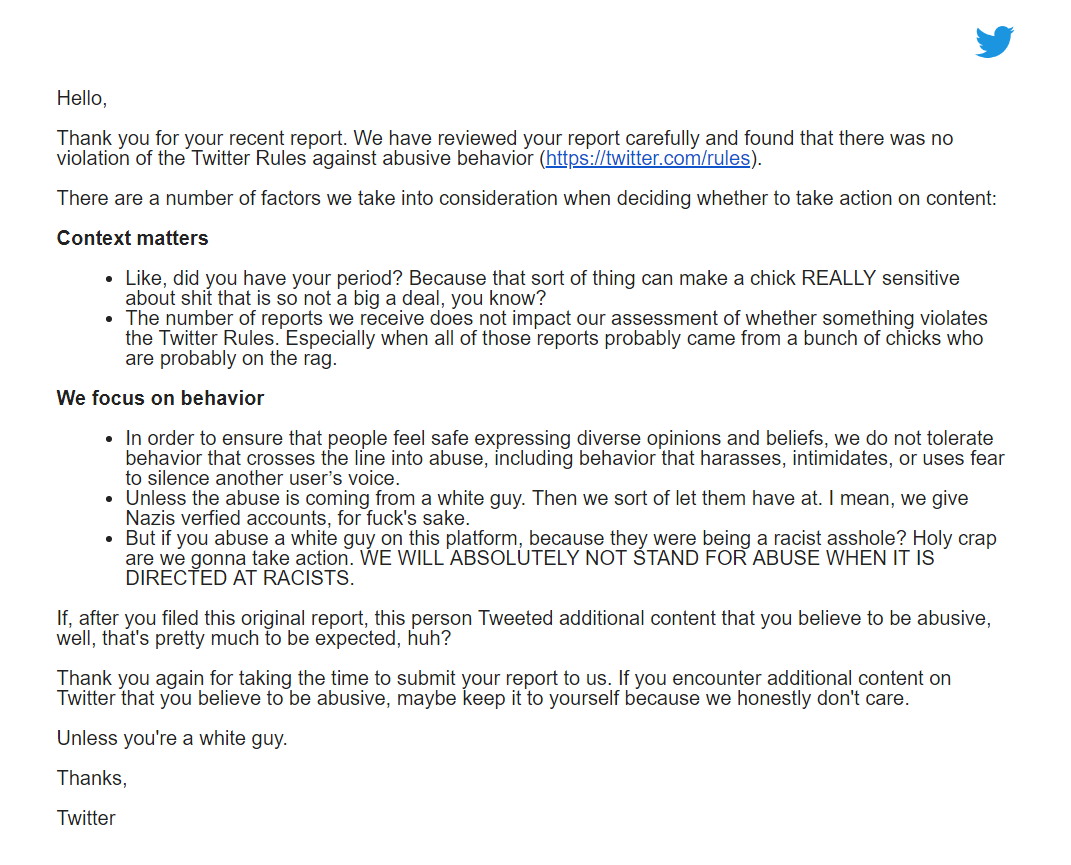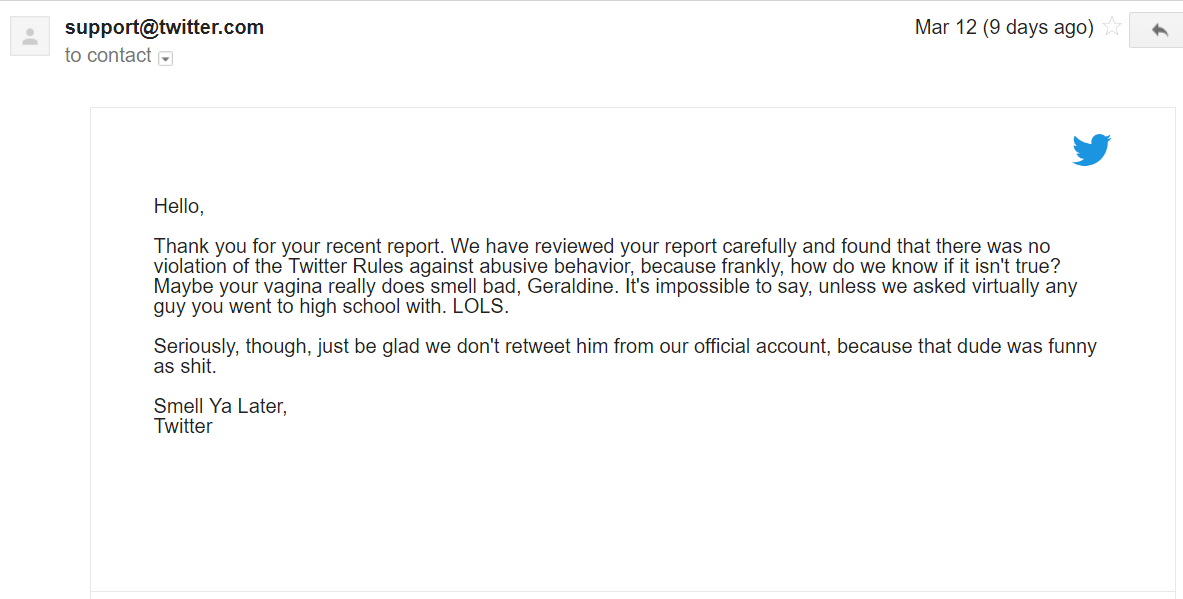 I'm currently procrastinating from working on a new book proposal which – wait for it – will require me to spend more time on Twitter. To quote from Luke O'Neil's brilliant article about our addiction to the internet and all its ills, "Our brains are broken because we're the ones who broke them."
I'd like to think that if maybe Twitter were a little more honest with their brand message, it would be easier to avoid (but I might just be lying to myself). Like, imagine if they actually sent out tweets like these, which better align with reality: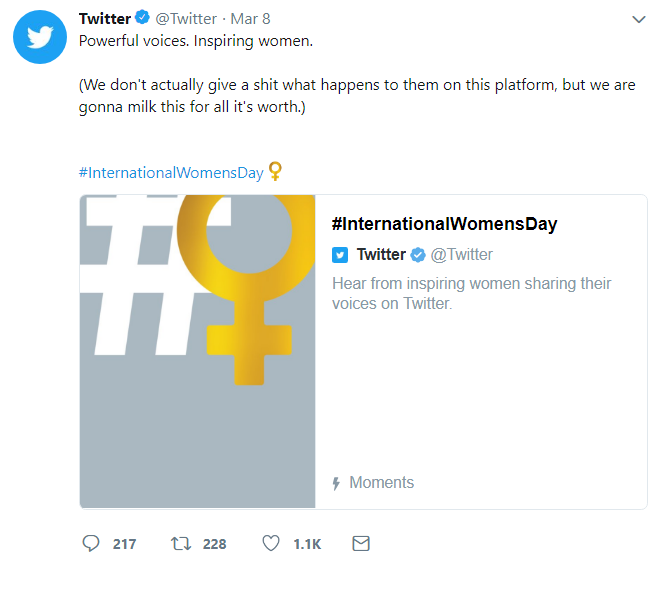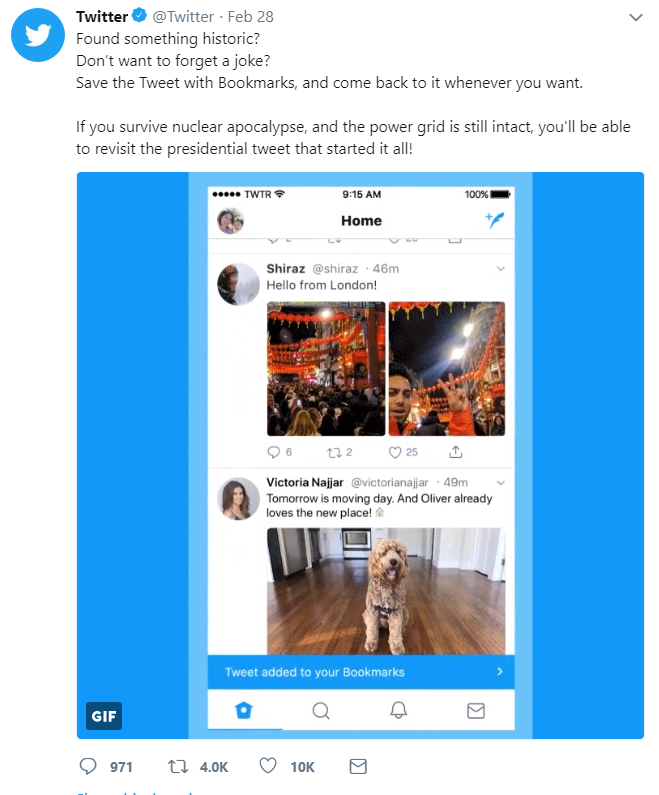 Anyway, if you need me, I'll … I'll probably be on Twitter.
Jesus Christ.