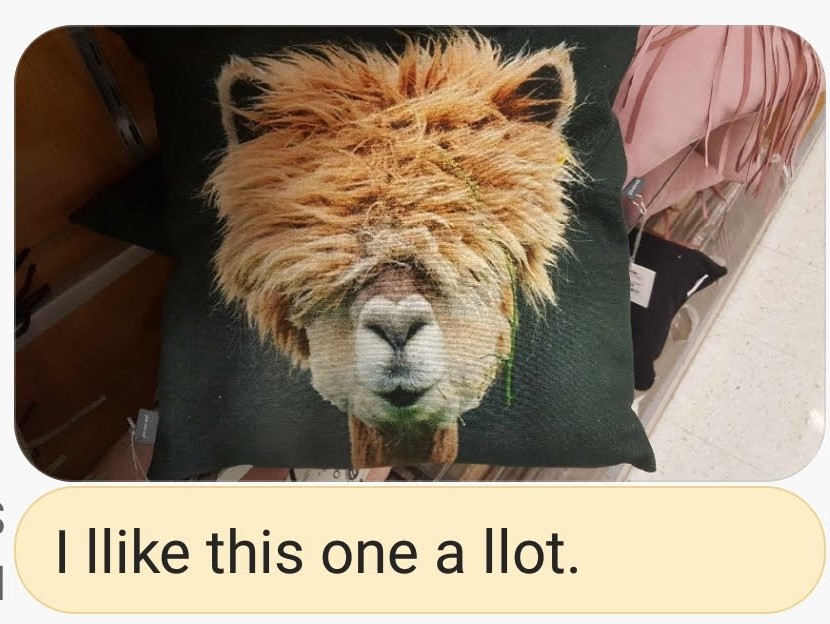 It is a truth universally acknowledged, that a married man in possession of a house will one day find himself in a shouting match with his spouse about something trivial like throw pillows. All of this will likely happen at IKEA. If that man has refused to go to IKEA, because he has justly concluded that the furniture retailer is actually Dante's tenth circle of hell, then the fight will take place at home, after his spouse has concluded that hellish shopping visit, which for some reason she decided to undertake by herself on a Saturday.
Why did she do this? She works at home. She literally could have gone any other day of the week. The answer is unclear even to her. Moths are drawn to the flame, only to erupt in a tiny burst of fire when they reach their destination. My version of self-immolation is a Swedish furniture retailer on a sunny weekend.
I will forget that the furniture I see in the charming but sterile showrooms requires hours of construction and a degree in civil engineering. I put the boxes onto my palette confidently. If my FJÄLKINGE bookshelf were impossible to build, then why did I have to fight a pair of weeping pregnant women for the last one? (I did you a favor, ladies. This shit is designed to collapse on your children.)
Everything in the store is slightly off in a way that will not make sense to you until you get it home. There is a fatal flaw in the design, but it's $19.99 and bright orange, so you are too distracted to notice. Take, for instance, this table, which has a huge handle coming out of the top of it.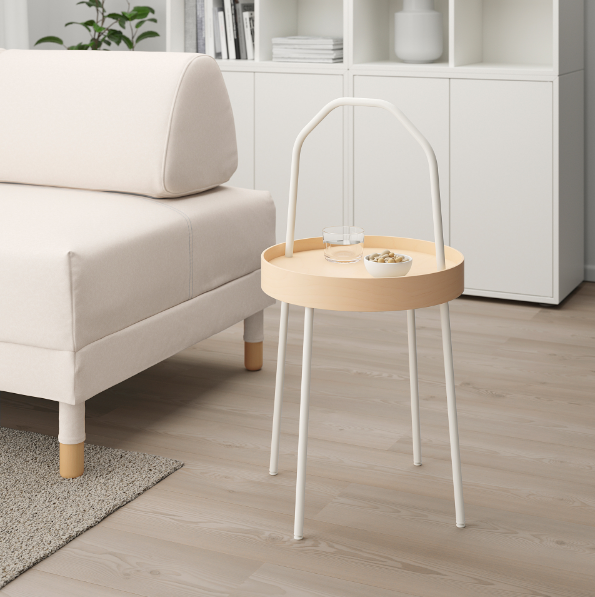 The placement of this handle prevents us from being able to easily put things on top of the table, which, for those new to the world of furniture, IS THE SOLE PURPOSE OF A TABLE. But this one has a handle, because the designers at IKEA got a "table" confused with a "basket." This is an easy mistake to make. They are both things that exist in the world. Like pubic hair and cereal.
I spent a good portion of my day in this world – one where furniture is not furniture and couples are around me are fighting in as many languages as appear on the fabric label of my VÄGMÅLLA throw blanket (I heard French, German, Spanish, and Russian during my visit – IKEA is like the UN of marital discord). I made it out with everything on my list, and my only additional purchases were a few throw pillows. I would consider this a coup over the corrupt powers that run IKEA. This was a victory. I deserved praise. And maybe a head rub. And some cookies.
WHAT I DID NOT DESERVE, RAND FISHKIN, IS YOU GETTING ALL SNARKY ABOUT MY GODDAMN PILLOWS.
I am unable to properly recreate our exchange because I am Italian, and when I get angry, my vision turns blood red and my ears are flooded with the sounds I presume followed my ancestors into war; lots of screaming in Latin and the distinct cracking sound that human bones make when they break.
"Thank you very much for going to IKEA, but …" he spoke delicately, because he knew I was about to behead him. "I … I am not a fan of those pillows."
"What?"
"Those pillows are bad."
These are the pillows in question.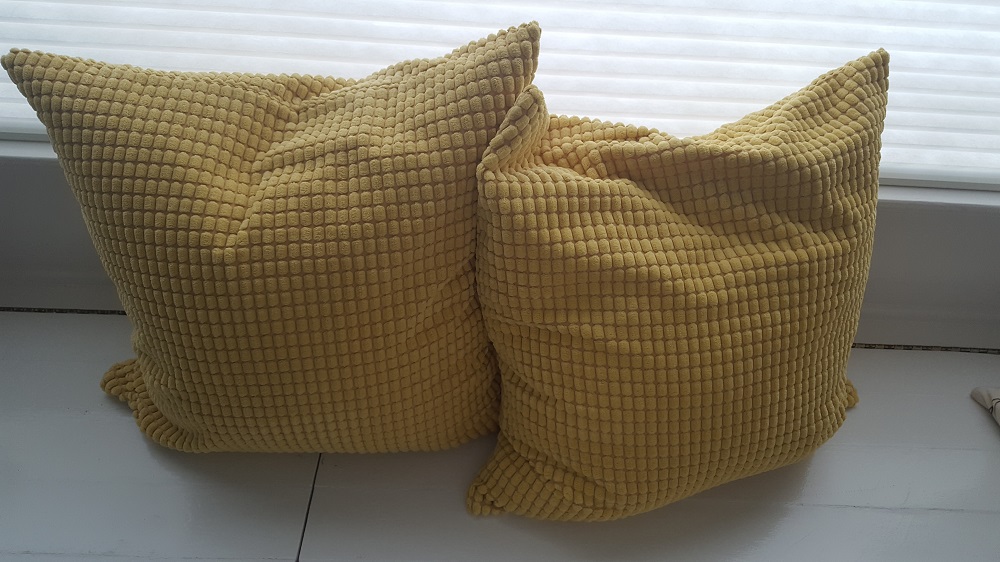 I picked dark navy and light yellow because my brain temporarily stopped working. They go with nothing in my house. It is not that my husband was wrong, it is that he doesn't realize that I WENT TO IKEA ALONE AND MADE IT OUT ALIVE AND YES, THE PILLOWS ARE NOT GREAT, BUT THEY DON'T HAVE FOAM SPIKES POKING OUT THE FRONT, OR WEIRD HANDLES EVERYWHERE, LIKE EVERYTHING ELSE AT THE STORE. And because of that fact alone, these pillows are a goddamn success. These pillows are perfect. He had better fucking love these pillows.
"Those are the janky pillows you would get in college," he said.
"YOU ARE THE JANKY PILLOW I GOT IN COLLEGE," I screamed back.
The fight progressed. There may have been tears. I can't remember from who. At one point, I pressed the pillow lovingly against his face. His reply, muffled, was either "I love you and I am sorry" or possibly "I can't breathe."
I have arranged the pillows around the house, where they mock me with their discordant color palette and weird velvety texture. I hate these pillows. But he is not allowed to hate these pillows.
Later, I went to TJ Maxx. I love TJ Maxx, because you can buy jam and housewares and polyester underwear that comes up to your nipples. I have heard that in other parts of the country, TJ Maxx stores carry designer labels, but in the outskirts of Seattle, they carry brands you have literally never heard of outside of a TJ Maxx. Wolfgang Puck has an extensive line of cake pans; this does not feel like a stretch. Daisy Fuentes makes curtains; interestingly, this doesn't feel like a stretch, either. At TJ Maxx, anything is possible.
The pillow section was extensive. I immediately texted my beloved.
At this point, Rand refused to reply, so I escalated the situation with bad puns and threats to put pillows in the toilet.
HE FINALLY REPLIED:
Let me just snap that little olive branch in two.
I maintain that my IKEA pillows are not that bad. I hate them nonetheless. Rand was right. I will never let him know.