Hey, Lauren Boebert, I get it: Theater is Super Horny.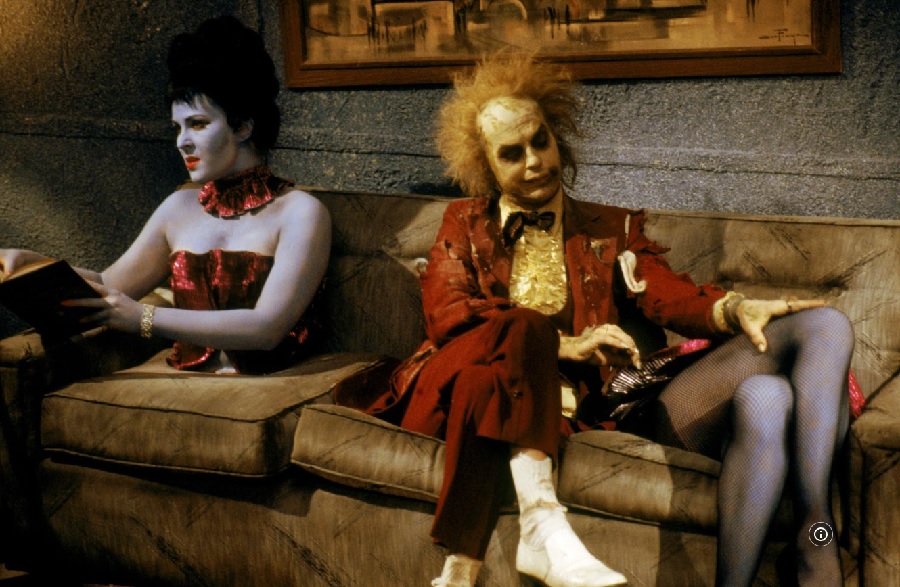 Several years ago, I crossed paths with the rusty, hateful jalopy that is Lauren Boebert's internet presence. The Representative had recently shoved a few firearms onto her bookshelf with the care of someone trying to shove dirty laundry into their suitcase at the end of a trip. I decided to display menstrual products on my shelves with the same abandon, just to see how conservatives might react. And as you can imagine, the responses were completely measured and logical.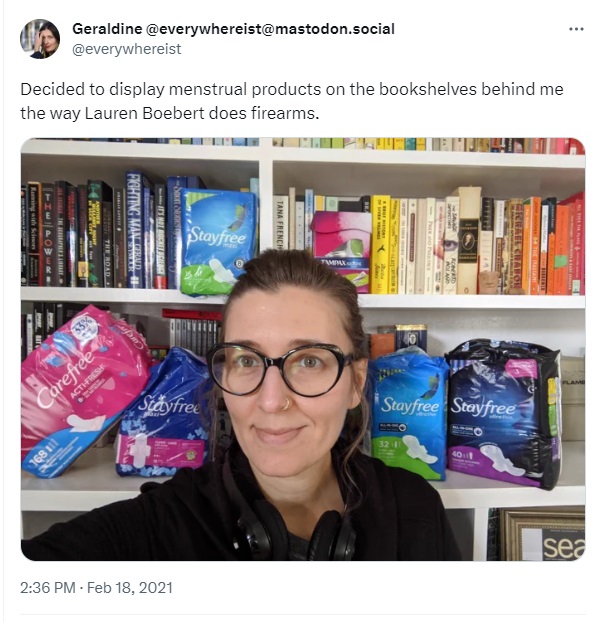 HA HA HA HA HA HA. Just kidding. I got called a stupid cunt. The replies were so vitriolic and unoriginal that I actually wrote a blog post rounding them all up, because I'd heard them all before. The representative herself decided to get involved, with this comment, which is transphobic and also incoherent?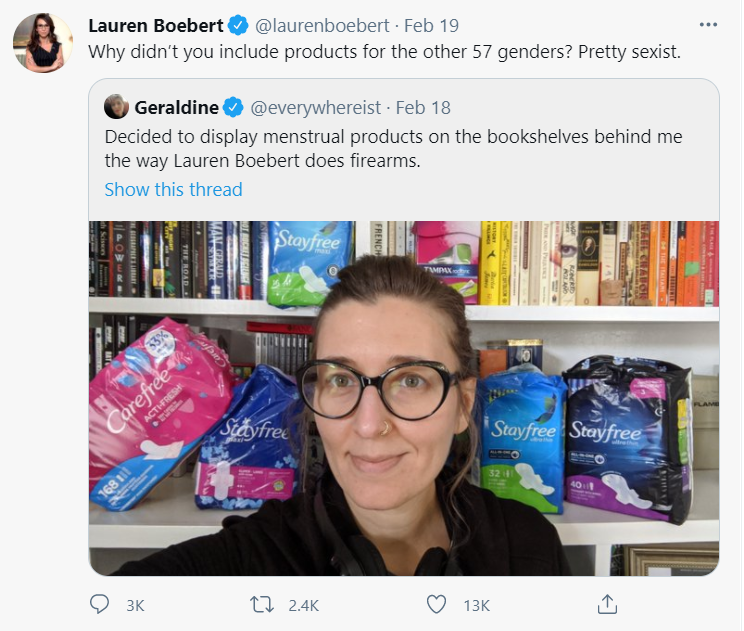 Like, I don't know that anyone is claiming that there are 57 genders, but if there were, I think that some of those people would menstruate, and some wouldn't, so we wouldn't need separate products for all of them, and I wasn't even talking about gender, and also and holy shit, I am becoming more vapid the longer I contemplate this. This level of hate is like an intellectual black hole. It actually sucks the thought out of you.
Anyway.
Recently, Representative Boebert has made headlines for getting kicked out of a performance of Beetlejuice, the musical, for what was originally reported to have been singing along too loudly and vaping inside the theater, but now has been revealed to have been singing along too loudly, vaping, being roaring drunk, making lots of noise, taking photos, and engaging in some consensual frottage with her date during the show.
For some reason, the most surprising part of this story is that there's a Beetlejuice musical, which I literally have never heard of? And somehow it's so popular that Representative Lauren Boebert, who is apparently an enthusiastic theater goer, knew the words to the songs?
Anyway, there has been a good amount of criticism of the Representative, especially after some leaked night vision security footage from the theater looked like a racy outtake from a VH1 reality show called CONGRESSIONAL HOUSE OF LOVE. It feels particularly hypocritical given that Boebert has specifically talked about the erosion of "traditional family values" and  how drag library lunch hours were somehow harmful to children (translation: she thinks gay people are bad), and then she went on to fill her partner's cannoli in a crowded theater surrounded by kids.
Her behavior specifically illustrates why people need to be exposed to the arts – so that they later don't expose themselves to the arts. Because theater represents the creative apex of our species – it is poetry, unfolding before us, in flesh and blood and voice and actions. It is the most beautiful things humanity creates: prose, music, dance – coming together in real time, for us, as we sit like literal royalty once did.
And if you aren't used to that, it can get you pretty horned up. I mean, the horniest people ever are drama and theater nerds, and the horniest and nerdiest of these undergo a metamorphosis (usually during sophomore year of college) to become exceptionally hot actors. And then the most talented of those hot horny nerds is what you see on stage before you when you go support local theater. It's social sexual Darwinism for people who look good in hats and like to play professional make-believe. I saw Hamilton with the original cast, and for a show about a bunch of historical figures who didn't have indoor plumbing, it involves a lot of indoor plumbing if you know what I mean. And yet to my knowledge none of us – the thousands who were there that night, and the millions of people who went to see the show before and after – got kicked out for, ahem, filling one another's ink quills while rapping about history. Because – and here's where things might get confusing – even if the script says that the actors can do something, you, as an audience member, cannot. It's actually shockingly similar rules to a strip club! Whatever happens on the Beetlejuice stage stays on the stage. So you, as a mere spectator, aren't allowed to smoke or yell or get naked or do any necromancing.
I understand this is a problem, because how could you not want to get freaky while watching a guy with mounds of student loan debt and four credits to his IMDB page dances around while dressed like this: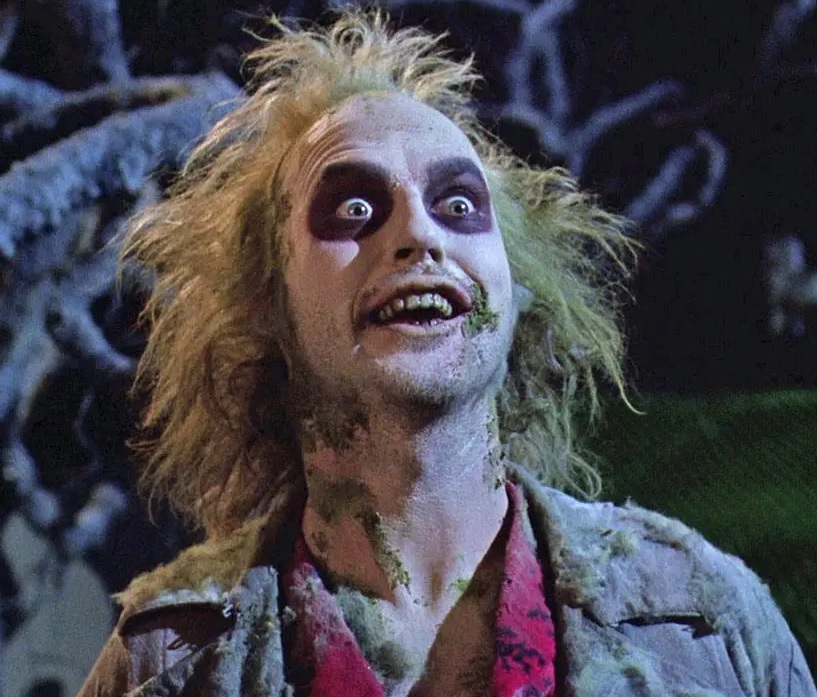 Honestly, he would test the most resolute of all of us. But the thing is, the rest of know how to behave. We have a sense that maybe our actions, if we are not careful, might hurt those around us.
And this is the fundamental problem with Representative Boebert's whole brand of thinking, not just around this night but around everything – the problem with her specific definition of "freedom." It's about her doing whatever she wants, no matter who is harmed by it. It's about throwing guns haphazardly on a shelf because that's what she wants to do, even though one could reasonably fall off and hurt someone. It's about vaping in a crowded theater around families. It's about acting in a way that makes everyone around her uncomfortable, because that's what she wants.
In all of that, she's missing the whole point of theater, of arts in general. To connect to others. And to be reminded that the world is so, so much bigger than ourselves.