Visiting Huaca Pucllana in Lima, Peru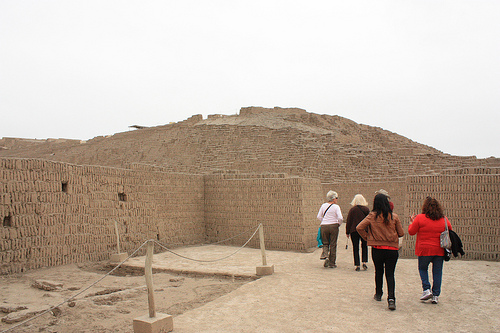 –
We did not know what Huaca Pucllana was before we got there.
That was one of the nice parts about Peru – on many days wandered aimlessly, and without fail, we found something to see. It turned out that Huaca Pucllana is a large collection of ruins in the posh Miraflores district of Lima. Admission was about $3, and includes a guided tour (which is the only way you can see the ruins).
The structures – which consists of a tiered pyramid and several large, walled rooms – were originally built sometime around the year 500 C.E. Over the centuries, many of the adobe bricks began to decay. Our guide (who in addition to speaking fantastic English was a bit of a pill) explained to us that the only reason the bricks had survived as long as they had was because Lima gets virtually no rainfall. The bricks are little more than clumps of dried mud – water washes them away.
–
–
I am, of course, positively dying to create an adobe structure similar to Huaca Pucllana in Seattle, to see how long it lasts. I'm guessing it would probably survive at least 30 or 40 minutes before turning into a puddle.
The ruins have been described repeatedly as an "important ceremonial and administrative center" for the early inhabitants of Lima. This description both baffles and delights me, and when I hear it I imagine a Dwight Schrute type character milling around the pyramid and filing paperwork while people built around him. I've taken to regarding Huaca Pucllana as one part church/holy ground and one part community center. Stuff happened here. Offerings, sacrifices, ceremonies, and budget meetings (probably). The mood is both humbling and somber.
–
As we walked around, we noticed groups of men working on the side of the pyramid. The guide explained to us that they were repairing areas that had eroded or been damaged. This was perhaps one of the most surprising things we discovered about Peru. Often, when artifacts are discovered in the states (or Europe) they're left as is – damaged and worn. But in museums and archeological sites around Peru, we found repairs had been made. The guide pointed out to us where the old bricks met the new ones.
–
–
I cannot imagine this working in other parts of the world.
"What in GOD'S NAME are you doing?!"
"What? I'm reattaching the arms on the Venus de Milo. I thought she'd look cool giving a Vulcan salute."
We climbed to the top of the Great Pyramid – the largest and most dominant structure at Huaca Pucllana. The guide showed us several tombs that had been unearthed in this section of the ruins. Human remains were found inside, along with offerings. Those pictured here are obviously reproductions:
–
See the bundled packages on either side of the tomb? The guide explained that they found one like that on-site, and inside they discovered the remains of an infant.
The top of the pyramid unfortunately doesn't offer great views of the city, but it does give you a great vantage point from which to appreciate the entirety of the ruins.
–
And it makes a good back-drop for the obligatory kissy-face photo (in case you were wondering, no, nothing is sacred to me).
–
The guide led us back down below for the end of the tour, to a small area that illustrated how the adobe bricks were originally made. There's even a statue of what someone native to the Lima area would have looked like centuries ago.
–

–
"He's very handsome, like me," our tour guide said (it was allowed. He was adorable.) He noted how people were much shorter back then.
–
He explained to us how mud was mixed in baskets, and the bricks were formed by hand.
–
–
And with that, our tour concluded. I found myself feeling conflicted. I'd more than gotten my money's worth – the admission price of $3.50 had given us a 40-minute guided tour around Peruvian ruins. I haven't found too many bargains like that in my travels. But I left wanting to know more. I felt like we'd only scratched the surface. Fortunately, our trip to Peru was only beginning.
—————
The Essentials on Huaca Pucllana:
Verdict: Recommended. While it pales in comparison to famous Incan ruins like Machu Picchu or Moray, if you are in Miraflores, the site is worth seeing.
How to Get There: We were able to walk from our hotel, but you can easily take a cab. Be ready to haggle – there are no meters, so you and your driver need to agree on the fare before you go (don't worry – I'll do an extensive post on this later). More seasoned travelers may want to try the Peruvian bus system, but I don't recommend it. Unless you know the area very well, speak excellent Spanish, and are good at haggling, it's best to leave this to the locals.
Ideal for: History and archaeology fans, and anyone interested in the indigenous cultures of Peru.
Insider Tips: Huaca Pucllana requires a lot of walking, so wear comfy shoes. Consider sunglass and sunscreen – even on an overcast day (of which Lima has many), it's easy to get burned and there is ZERO shade. Bring cash to tip your tour guide – ours was incredibly knowledgeable and certainly earned it. And you might want to ask if the back gardens are open to visitors. We snuck a peek at them as we left, but they're not part of the official tour:
 –
Nearby Food: There is a restaurant located on site at Huaca Pucllana, but it's a wee bit fancy. Consider eating before you go to the site (if you are looking for a reliable, delicious chain, I recommend Pardos Chicken).
Good for kids: Yup (at least, according to this childless travel blogger, yes) – but do be careful. Keep an eye on very little ones, as there isn't any railing at Huaca Pucllana, and they could be tempted to wander off the path or tumble over an edge. And some of the sacrificial stuff might spook them a little bit, but odds are they'll be fascinated.