Hook and Ladder 8: Home of the Ghostbusters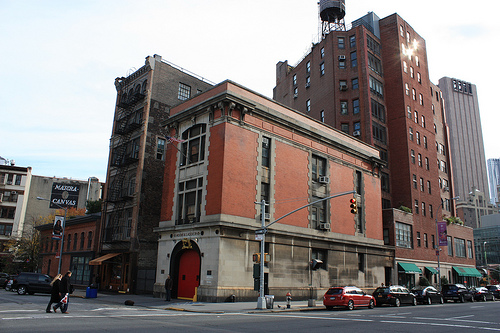 It's rare that I have direction when I travel, in any sense of the word. I usually roam around the city, using my blessedly-large nose to seek out and follow the smell of baked goods, often to a happy end.
But during my trip to New York last October, I had, for one of the few times in my life, direction (and one that was not influenced by baked goods).
I needed to make a pilgrimage to Tribeca, and one that was a long time in coming. I had intended to go to 14 North Moore Street for years, but the other callings of New York (Ellis Island, shopping, and cupcakes) kept leading me astray. This time, though, there was nothing else on my schedule. The sun was shining, it was unseasonably warm, and it was, rather fittingly, Halloween Day.
And so it was a perfect occasion to visit the firehouse that served as headquarters for Ray, Peter, Winston, and Egon.
That's right: I was going to Hook & Ladder 8. The New York fire station used in Ghostbusters.
My love for films of my childhood is no secret here on the blog (every few years I pop down to Astoria, OR, where The Goonies was filmed, just to see if anything has changed. It has not). Ghostbusters ranks high on my list of favorites, and even to this day, quotes from the movie pepper my vernacular.
My default outburst of choice is always, "Mother pus bucket!". And at least once a week Rand will do something that will cause me to yell, "What did you do, RAY? WHAT DID YOU DO?"
Getting to Hook and Ladder 8 is surprisingly easy – the subway will drop you off just a few steps away. On the corner of N. Moore and Varick, you'll see it.
–
The station is still being used, so be careful when you approach it. The firefighters I encountered were incredibly polite, and no strangers to curious tourists, but you'll still want to get the heck out of the way if they start to pull the truck out of the garage.
–
There's a subtle tribute to the movie, painted on the ground near the station house – a rendition of the Ghostbusters logo that looks very little like the original, but may be just enough to communicate to a savvy passer-by as to what's going on.
–
Then again, perhaps it's fitting that it doesn't look like the movie logo. It's a reminder that the beloved stories from our childhoods are merely that – stories – and that reality can be far grimer. Proving that point even further is this plaque on the wall of the station, commemorating Lt. Vincent G. Halloran, who died while on duty on September 11th. He left behind five sons and his wife, who was pregnant with a little girl he would never meet.
–
It's funny – all these years I've loved a movie about ghosts, and this was the first time I ever associated it with death. I had finally reached a destination that I'd been trying to get to for years, and seeing it left me both fulfilled and saddened.
I suppose sometimes it doesn't matter how well you plan – your life will get derailed for reasons you can't anticipate. You plan to visit a place, and you'll never get there, or you'll end up somewhere you never imagined you'd be. In that respect, it was nothing short of miraculous that I had gotten to Hook and Ladder 8. Heck, it was nothing short of miraculous that any of us got anywhere.
I took a few more photos, stared a building for a bit longer, then turned and walked into the fading sun. It was autumn in New York, and once again I had no direction, but I knew that somewhere, someone was baking cupcakes.
—————
The Essentials on Hook and Ladder 8:
Verdict: Visit, if you are in the area (the station is close to the SOHO shopping district and is by no means out of the way). But don't expect anything particularly grand. If you loved the movie, you'll get a kick out of seeing it.
How to Get There: It's a short walk from the subway. You can take the 1 or the 2 to Franklin Street, or the A, C, or E to Canal Street. From there, head over to 14 North Moore, and on the corner, you'll find it.
Ideal For: Movie buffs; children of the 80s
Insider Tips: Since the station is still in operation, you can't really tour it, but if you catch an obliging fire fighter on a slow day, they might let you peek inside. Supposedly the Ghostbusters II sign still hangs inside. Be sure to catch a glimpse of the customized insignia on the ground just outside the station.
Nearby Food: Magnolia Bakery isn't far from here, but for those of you who need something more substantial than a cupcake please consider getting out of my sight because I DON'T WAN T TO KNOW YOU walking to SOHO and NOHO, where you'll find plenty of options.
Good for Kids: Little ones who are fans of the movie and old enough to tell the difference between fiction and real-life might get a kick out of this. Otherwise, it will just be confusing (and possibly a little dull).