Gaudi in Barcelona, Part 1: La Pedrera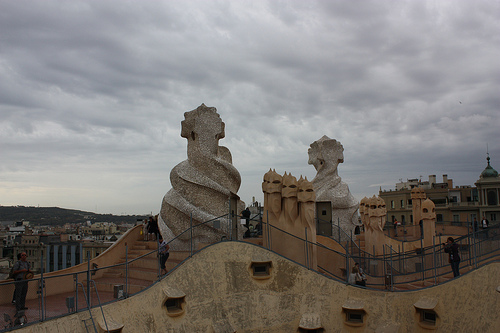 –
I never really "got" architecture.
I blame Mike Brady. Supposedly an expert in the field of home design, he squeezed six children into two bedrooms. He was no architect. He was a sadist. And – hello – is it really a good idea to cram that many biologically-unrelated children into two rooms far at the other end of the house, just as they are approaching puberty?
ARE YOU TRYING TO TURN THE BRADY BUNCH INTO A V.C. ANDREWS NOVEL, MIKE? If so, well done.
As a result of all those TBS reruns I watched in the mid-80s,  I was put off architecture for years. I found it dreadfully dull, despite there being luminaries in the field with delightful names like Buckminster Fuller and I.M. Pei (names that are just begging to be punned into Ben & Jerry's flavors. ChunkMinty Fuller? I.M. Pie? Someone get this, immediately).
But then, the summer after my junior year, I took a class trip to Spain. Part of the time was spent in Barcelona, home of Antoni Gaudi. And suddenly, miraculously, I got architecture.
And part of getting it was that I didn't get it at all. This was not the boxy, bauhaus-gone-wrong world of the Mike Brady. No. Gaudi's work was a nonsensical Baroque carnival. It looked like it had taken inspiration from a medical text dedicated to the anatomy of sea monkeys (note: if this actually exists, someone please buy it for me).
Despite all the madness, though, it made perfect sense to me. And I loved it. For the first time, I truly loved architecture.
And so, when I returned to Barcelona with Rand and his colleagues, I was determined to show them as much of Gaudi's work as they'd put up with. We ended up visiting three of his buildings during our trip, and consequently I've decided to break up our experiences into three posts.
That's right: three whole posts about architecture.
No, wait, stop! Don't go click away. I know it sounds miserable, but it's not. Really. It will be interesting. I promise. At least as good as an episode of The Brady Bunch. Maybe not as great as the one where Marsha breaks her nose, but far better than any featuring Cousin Oliver.
And on that note, let me tell you about our first visit to a Gaudi site – Casa Mila, or, as it's more commonly known, La Pedrera ("The Quarry").
La Pedrera was originally commissioned by a wealthy widow and her second husband. Gaudi's intent had been to make the building an homage to the Virgin Mary, but many elements that reflected that were removed entirely by the owners (who probably felt that a bunch of statues of the virgin might cramp their newlywedded bliss) or were restricted by the local government. The resulting building is not as Gaudi had envisioned, but it's still impressive nonetheless.
–
Notice the balconies: no two are alike.
The rooftop is marked by winding pathways and spikey chimneys. And even though the virgin is absent, it does feel vaguely church-like. If that church was, say, on Tatooine.
–
–
–
At this point in the post, let me apologize for the jumble of pop culture references I've thrown at you. I realize that I've jumped from The Brady Bunch to Star Wars in just a few paragraphs. It's not my fault – Gaudi inspires this sort of madness, I tell you.
–
And the ceiling of the uppermost floor of the building almost looks like a steeple.
–
Inside there are scale models of many of Gaudi's buildings, where you may pretend you are a giant on a rampage, if you are so inclined.
–
The lower floors of La Pedrera have been restored to how they were when the Mila family lived there a century ago. Still, it's incredibly hard to reconcile that someone actually made this place their home.
–
–
–
–
Visitors are given a surprising amount of freedom to wander around and explore as they wish.
–
Everything has Gaudi's unique fingerprint on it.
–
The entire building feels organic, yet stark. It's like we were crawling around in the skeleton of some bizarre creature. Which, clearly, was where Gaudi drew inspiration.
–
At the courtyard on street level, you can't help but feel like you've been swallowed whole by the building.
–
–
I could go on about how crazy and surreal the entire place is, but really, Rand's facial expression says it best:
–
I couldn't agree more.
–
—————
The Essentials on La Pedrera (aka, Casa Mila):
Verdict: Highly recommended. However, if you only have time to see one of Gaudi's works, I'd make it the Sagrada Familia (but more on that later).
How to get there: We were fortunate enough to be able to walk from our hotel, but there's also a metro stop that's just around the corner.
Ideal for: artists, architecture and history buffs, and anyone who likes to color outside the lines.
Insider tips: There's plenty to see inside Casa Mila, so it's worth a visit even on a rainy day, though the views from rooftop deck will be less impressive. Head over early on a weekday to beat the crowds (check their website, though, as opening hours vary). Wear comfortable shoes, as you'll have to tackle a lot of stairs (supposedly the building is wheelchair accessible, though.) Check online or at your hotel for discounts or coupons on the hefty admission price (it was close to $20 U.S. a person).
Good for kids: Older children who are given some context to Gaudi and the building will likely enjoy the funky shapes and lines, but very little ones will quickly get bored or tired.