Gaudi in Barcelona, Part 2: Casa Batllo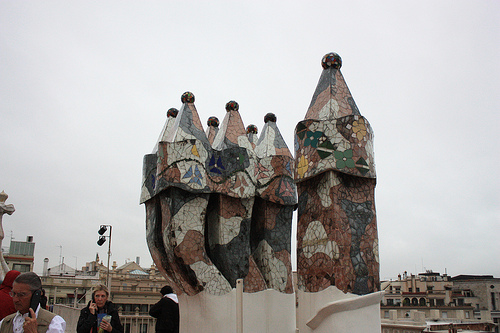 –
Remember Fraggle Rock? I positively loved that show (I'd really like to see a "Where Are They Now?" feature on the Fraggles. I hope Wembly finally got into rehab).
The beginning always scared me, though. Something about the baseline, and the dingy house, and the tiny mouse hole into which the Fraggles ran gave me the heebie jeebies.
And the trash heap. The trash heap gave me nightmares for years. I couldn't bear it when the Fraggles went wandering into the backyard to talk to her.
–
Oh, and let's not forgot the Gorgs. My blood pressure spiked every time they'd snag a Fraggle (I was convinced they were going to be eaten, but in hindsight, I guess this was never a plot device they considered).
Often, the suspense was too much for me to bear, so I'd bury my head until the Fraggles were safely home again.
I suppose I was a sensitive child.
But I kept watching the show, despite the distress the episodes caused me, because I loved their underground home so much. It was so weird and whimsical. There were no harsh edges or right angles – rooms had rounded corners and smooth arches. And there were loads of niches and weird alcoves in which the Fraggles could hide or take naps.
To me, their home was as much a character as any of the Fraggles were.
When we visited Casa Batllo, another of Gaudi's great works in the heart of Barcelona, I couldn't help but think how much it reminded me of Fraggle Rock. Gaudi had created a stone funhouse. It was chock-full of strange alcoves and rounded edges. It was fun and fantastical, and yet, like Fraggle Rock, there was something strangely creepy about it.
The house itself was built in the late 1800s. The Batllo family purchased it at the turn of the century, and hired Gaudi with the intention of tearing down the entire structure and rebuilding it. Gaudi convinced them that all he had to do was renovate the original building.
And renovate he did.
There are said to be no straight lines anywhere on Casa Batllo. The front facade is decorated in a mosaic of tiles that gradually changes color – like the scales of a fish – towards the top. The roof is designed to resemble a dragon perched on the building, and a large spire at one end represents the handle of St. George's sword.
–
Yes, that's right: Gaudi designed a slayed dragon on top of the Batllo home. Like I said: fantastic. Whimsical. A weensy bit creepy.
The inside is no less fabulous. You can definitely see similarities between it and La Pedrera, but I found Casa Batllo to be more colorful, richly textured, and overall more interesting to look at.
–
–
–
Even the doors are works of art.
–
And the railing on the stairs. Of which there are many. Getting to the top of Casa Batllo requires quite a trek. Unlike our visit to La Pedrera, we started on the bottom floors and worked our way up.
–
The stairs circle around an atrium, which is tiled like the scales of a dragon.
–
–
When we finally reached the top floor, we found the corridors were a series of arches, not unlike we had seen at La Pedrera.
–
–
And Casa Batllo's rooftop was no less impressive than La Pedrera's had been, even on a rainy day. We wandered around, and though we got a bit wet, not a single one of us was caught by a Gorg.
–
–
–
The tiles, the mosaics, the colors: it was all splendid, it really was. But perhaps the most remarkable thing about Casa Batllo is that people still live and work there, even now. Someone, despite all the wonder and magic that's going on around them, they manage to go on with their lives.
And hey, why not? I mean, it worked for the Fraggles.
—————
The Essentials on Casa Batllo:
Verdict: Recommended. Though it cost more than Casa Mila, our tour at Casa Batllo also included audio guides, and the architecture is, in my opinion, more innovative than many of Gaudi's other residential works.
How to get there: If you chose to take a ride on the red tour buses that cycle through town, one will stop right in front of Casa Batllo (this is what we ended up doing, and it worked out great). Otherwise, the Passeig de Gracia Metro Station is just across the street.
Ideal for: artists, architecture and history buffs, fans of Fraggle Rock.
Insider tips: Like Casa Mila, there is plenty to see here, even on a rainy day, but the views of the city won't be quite as wonderful as when the sun is shining. We found there was less of a line here than at La Pedrera. Definitely opt for the audio tour, which provides a lot of insight and history as you walk through the building. A lot of walking is required, and the building is supposedly less wheelchair-friendly than Casa Mila.
Good for kids: If they can handle their own audio device, yes. Casa Battlo is brighter, zanier, and more visually interesting than La Pedrera. I suspect it would be an even bigger hit with older children. The building is not terribly stroller friendly, though.