I'm Rejoicing in Tom Brady's Punishment. Here's Why.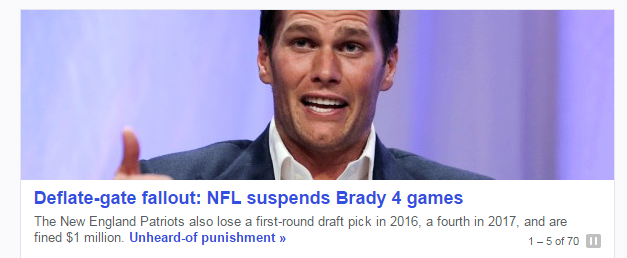 Yesterday, the NFL announced the consequences Tom Brady and the Patriots would face for deflating game balls during their playoff match versus the Indianapolis Colts. The details, by now, are known to virtually everyone who's interested in the game, and even to those who aren't: a four-game suspension for Brady, a million-dollar fine for the Patriots, and the loss of two draft picks (a first round in 2016, and a fourth round in 2017 – the latter which, admittedly, feels rather arbitrary).
As a fan of the game, I've watched the developments with interest, wanting to see how the league would handle a scandal that, for once, didn't pertain exclusively to a player's actions off the field (e.g., Ray Rice's beating of his fiancee), but one that could potentially impact the outcome of the game itself.
And as a Seahawks fan still smarting from a Super Bowl loss, I've watched with all the subtlety of a Disney villain, occasionally cackling with delight at the fall of Boston's handsome prince.
I am not alone in my schadenfreude. Except for my one misguided friend who is devout Patriots fan (I can only assume his allegiance is part of his punishment for sins committed in a past life. Consider also this: he is a ginger), and a few pockets of folks in New England, all of the United States and most of the internet seem pretty darn delighted that the Patriots and their preternaturally handsome quarterback are getting their due.
Some have argued that the punishments are too severe (noting that Brady was suspended for twice as long as Ray Rice was for beating his fiancee unconscious in an elevator) and that the NFL is simply bending towards the will of a public that hates Brady and New England because they are winners.
And that's ridiculous. I don't hate Brady because he's a winner. I hate Brady because, to quote a scene between Peggy and Don on Mad Men, he has everything, and so much of it. And he still decided to cheat.
In his 13 seasons with the Patriots, Brady has led his team to 6 Super Bowls, and taken home four rings, including one last year, snatched from my dear Seahawks in the last few seconds of the game, in a play that literally brought me to my knees. Had it been Peyton Manning's team who had made the interception, it wouldn't have felt nearly so wrong. But Brady? Pretty-boy-Tom?
There is plenty to dislike about Brady, both on and off the field. When his team barely eeked out a fourth title win this February, they celebrated and mocked the Seahawks as though the final score had been a blowout, and not 28-24. Even the Seahawks, with their brashness and bravado, showed more decorum in their 43-8 routing of the Broncos the year prior.
He sits at the helm of a team of ungracious, sore winners. His personal life doesn't ingratiate him to us more: we see him, squinty and happy alongside his Brazilian supermodel wife, weaving through scores of squishy mortals in their matching UGGs, flashing a toothy grin. And while he is not the most handsome man to play the game (that title belongs, without dispute, the Philadelphia Eagles linebacker Mychal Kendricks), Brady possesses the infuriating, all-American looks that movies and films have taught us to revere: blue eyes, a strong brow, the chin of a goddamn comic book superhero.
Even the Mannings, with their scores of money, lovely brides, and pizza empires, at least have the decency to look like Muppets.
We Brady haters delighted in pointing out all of his failings, but realized that it didn't amount to much. It was simply sour grapes, the complaints of fans angry that he defeated us, snatched championship rings out of our hands so quickly, we didn't truly understand our grief until hours later.
Then came the game against Indianapolis, and charges of ball tampering against the Patriots. Those of us who despised them watched with unfettered glee as Brady denied any wrongdoing, and his own coach tossed him under a bus.
Even his biggest detractors (and I count myself among them) note that the tampering had virtually no impact on their playoff win against the Colts. After the balls were discovered and taken out of play at the half, the Patriots continued to dominate on the field. But looking back, the Patriots' record of fumbles has been shockingly low – to a literally statistically impossible degree. There is no proof that they deflated balls in those earlier games – but the evidence serves to cast doubt on the Patriots record, to tarnish their untouchable reign. For those of us who already hated Brady, that doubt is enough to delight us, to give us ammunition against New England's fans.
Sure, you have four Super Bowl rings, but could you have done it without cheating?
Odds are, yes – a least a few of those shiny pieces of jewelry belong to him. That's the thing: Brady is an unquestionably good quarterback. If ball-tampering had occured in other games, it may have impacted a few of them (the Patriots' narrow playoff win over the positively predatory Ravens comes to mind), but likely not by much. It almost seems like Brady didn't even realize that he was cheating – he's just a man who is accustomed to getting his way. If he wanted his footballs to be slightly more deflated, he saw no reason to not make that happen. It was the arrogance and entitlement of a guy who isn't used to hearing the word "no."
And that, I think, is why so many of his detractors (myself included) are latching on to his punishment with such glee. Because it proves that the heroic Brady isn't above the game. It's given those of us who already disliked him one more reason to do so – one that we can pretend has nothing to do with jealousy, or being a sore loser; a reason that pertains directly to the integrity of the sport: Brady is a cheater.
For those of us who've hated him all along, it's almost as wonderful as winning the Super Bowl. Almost.