WTF Weds: My Brother's New Movie Looks Amazing.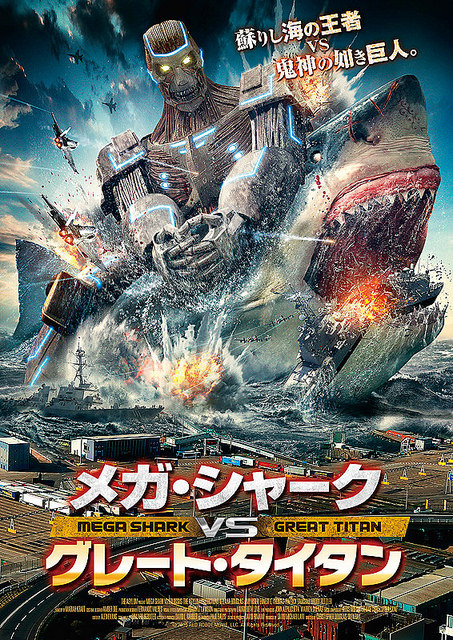 My brother is in a new movie, and this time I found out about it on Facebook, rather than having to stalk his IMDB page like a peasant. This is the poster for it:
YOU GUYS. It is a giant robot doing the Double Axe Handle wrestling move (yes, I looked it up) on a giant shark and there are also a bunch of planes and ships and explosions going on.
I am going to wait a moment to let the sheer awesomeness of that sink in a little.
Here is the Japanese trailer for the movie:

I don't speak Japanese, but here's what I was able to glean from it:
My brother is in it. You can see him for half a second at 0:52.
There is also a giant shark.
There is a giant robot, which I think is piloted by humans? (No, never mind. The robot is sentient. Which is good for the robot, I guess. But really bad for mankind.)
The giant robot flings the giant shark into space, where it hits a satellite, which then accidentally shoots a laser that slices the moon in half.
That last sentence is the most amazing thing that I've ever had the pleasure of writing.
Here's the U.S. trailer, in which you can also see my brother (at 0:48). He's the one talking about how the giant sentient robot is leftover from the Cold War (and he's also in the still image below. OMG.)
I realize that's a bit of a spoiler, but if you think about it, it's kind of obvious. The sentient robot was going to be from the Cold War. Or outer space. Or possibly ancient Egypt. I mean, duh.
Also, I think that maybe the shark is mad about global warming. Which is totally understandable. This film clearly has an important message.
I intend to watch it at least a dozen times.