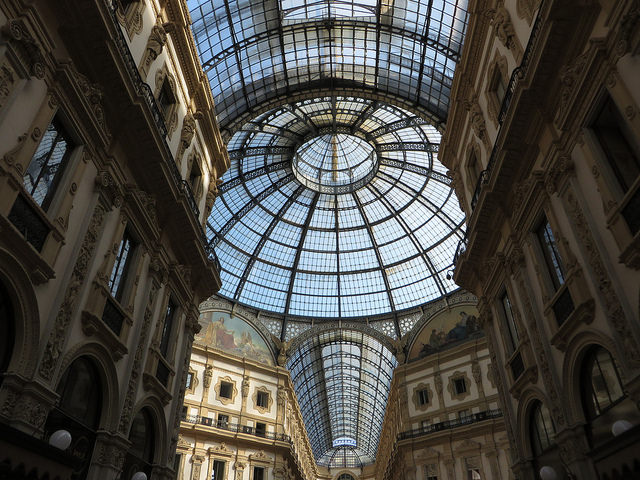 Milan doesn't really feel like Italy. It lacks the craziness of the south, the noise and chaos that flows through my veins and feels like home. But it is lovely nonetheless.
Here is the Duomo in the sunlight.
This is the Galleria Vittorio Emanuele II, one of the oldest shopping malls in the world.
There is no Cinnabon or Spencer's gifts. But there is a Prada and a Versace and a number of other stores I don't dare step into, because I'm afraid they'll charge me just for breathing in the air.
This is the focaccia that was so good, I didn't share:
And behind it is my husband, looking like Gregory Peck and breaking my heart into a thousand pieces before it's even noon.
This is the Orto Botanico di Brera, which was so alive it felt like it was breathing. Insects buzzed in the air and every step I took sent lizards scurrying into the leaves.
Overlooking the Orto is a small observatory filled with ancient astronomical devices and giant telescopes, made of dulled brass and foggy glass, beautiful but mostly ineffective.
If find it, you'll think you've stumbled across some well-hidden secret, despite the signs indicating that it's up there.
This is the graffiti that you pass on the stairs up to the observatory. Rand asked me what it said.
"For me, the stars," I told him.
This is the burrata that we ate, cold and creamy on a sweltering night in a little restaurant by the canals.
And his risotto that was so good, words failed him. He had only gestures.
And here he is, silent and still, looking at the Duomo and unknowingly hurting my heart.
That's just a little bit of what happened. There is more to Milan, and to our trip. I'll tell you about it tomorrow, and the next day, and the day after that, when the jet lag finally fades, and I'm able to think a little more clearly.